About Bill Gladstone
Bill Gladstone is a Toronto-based journalist, author, publisher, public speaker and noted genealogist.
As a journalist, he has written extensively for the Globe and Mail, Toronto Star, Maclean's, Jewish Telegraphic Agency, New York Forward, London Jewish Chronicle, Weekend Magazine and many other publications. As well, he was a regular weekly contributor to the Canadian Jewish News for almost 35 years. He has written numerous short stories for Parchment, the Canadian Jewish literary journal.
His books include:
A History of Beth Tzedec Congregation of Toronto (2016)
The Story of Beth Lida Forest Hill Congregation (September 2012)
A History of the Jewish Community of London Ontario (2011)
One Hundred Years in Canada: the Rubinoff-Naftolin Family Tree (2008)
Roots and Remembrance: Explorations in Jewish Genealogy (2006).
Bill founded the publishing company Now and Then Books in 2008. Among its most successful titles are Kitty Wintrob's I'm Not Going Back, S. M. Shapiro's The Rise of the Toronto Jewish Community, and Yuri Suhl's novel of Jewish immigrant life, One Foot in America. For further details on these and other titles, please click here.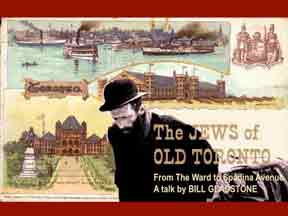 Bill gives frequent illustrated talks on "The Jews of Toronto: From the Ward to Spadina Avenue" for libraries, synagogue groups, private clubs and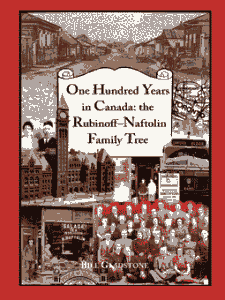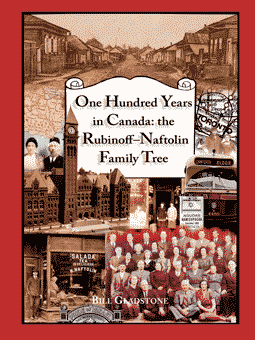 reading groups. He also gives frequent workshops on Jewish genealogy for the Ontario Jewish Archives and for private groups.
As a genealogist, Bill has published a major work on his Rubinoff-Naftolin Family Tree and a smaller book on his paternal grandmother's Alexander family tree. He is the former president of the Jewish Genealogical Society of Toronto and book review editor for Avotaynu, the international journal of Jewish genealogy; he has also contributed a chapter to the popular Avotaynu Guide to Jewish Genealogy. He has done genealogical research for many clients; for details please click here.
Bill Gladstone featured in Toronto Star.
Email: bg@billgladstone.ca

 
FEEDBACK FROM A RECENT TALK:
Many thanks for your really engaging talk last Sunday morning at the L—— Family Reunion. I think we would have been happy if you'd gone on for several more hours. The photographs and your descriptions really moved us and provided a lot of the missing pieces in our family story. We still have much to uncover, but you provided some meaningful pointers. And, I particularly want to thank you for customizing the presentation to our family's personal history. I, for one, came away on Sunday, feeling as though I had just travelled that difficult journey to Canada myself. R.A., Toronto