Our family organization, the Agudas Hamispocha or United Families Organization, was formed in 1928 by dozens of cousins from the Rubinoff, Naftolin and Arnoff families who came to Toronto from various shtetls (small towns) in Bielarussia (Belarus), beginning about 1905. Many treasured friends and in-laws were also "adopted into the mispocha" over the years.
The original generation of immigrants and their children lived with a closeness that was akin to being brother and sister. They worked together, socialized with each other, helped each other, shared simchas and sorrows, and practically lived in each other's homes. In the early years they met regularly in the homes of relatives, where refreshments sometimes included shmaltz herring and cold beer tapped from a keg, and also in rented halls such as the former Old Folks Home on Cecil Street.
Most of the original generation and their children lived within walking distance of each other on Queen St., Defoe (Adelaide), Fenning, Shaw, Ossington, Turner and Mitchell avenues. Some families lived in the Jewish neighbourhood in the West Toronto Junction. They worked as grocers, bakers, tinsmiths, tailors, barbers, hatters, plumbers, junkyard dealers, merchants and builders. Several owned shops along Queen Street West long before it was trendy.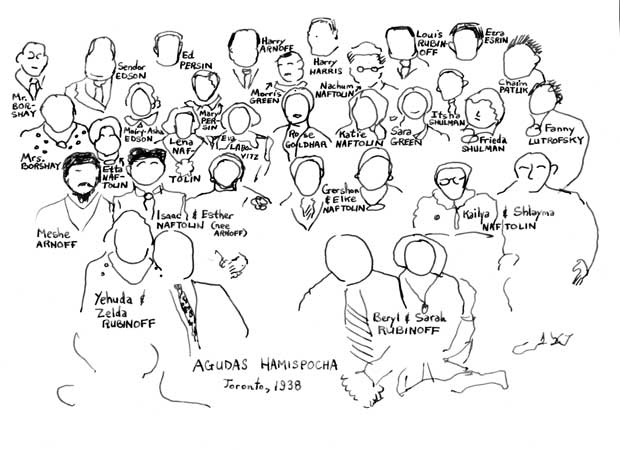 An "aktzia" or loan society was formed in 1929 to help relatives in financial distress. Many businesses were started on the strength of a loan of $100 which was paid back in small unhurried installments with no interest. The Ladies Auxiliary tirelessly held teas, rummage sales and other events to raise money for Jewish Palestine and many other charitable causes. Beneficiaries included the former Old Folks Home, Mount Sinai Hospital, Canadian Heart and Stroke Society, Canadian Cancer Society and the UJA Federation and Jewish Foundation of Greater Toronto.
Family members met weekly throughout the '50s and early '60s in a hall on College Street, then in uptown premises near Wilson and Bathurst. They established the Relative Young Men's and Relative Young Women's societies but over time these became less active and amalgamated back into the main group. In 1988, they established the Agudas Hamispocha Philanthropic Fund at the Jewish Foundation of Greater Toronto. The Fund supports numerous charities annually.
In recent years members meet for monthly breakfasts from spring to fall. This year (2012) the Agudas Hamispoche marks its 84th anniversary. We are planning to celebrate our 85th anniversary in 2013. We hope to perpetuate the good deeds of our beloved founders of blessed memory for many years to come.
In the coming months I hope to build up this page with photos and news gathered at our monthly breakfasts. Keep checking this page — more photos and details to follow.
Send any queries to me at  bg@billgladstone.ca. Thanks!
"The world stands on three things: on Torah, Divine worship, and acts of loving-kindness." — Pirkei Avot, 1:2.
Related Stories
 Profile: Rose Friedman at 100 (Part of Rubinoff-Naftolin family of Toronto)
One Hundred Years in Canada: the Rubinoff-Naftolin Family Tree (2008).
Read the article Bridging 90 years of Rubinoff-Naftolin history 
WOW! All-in-One Sketch of the Rubinoff-Naftolin Family Tree
Mishpocha memories at the Beth Sholom