Toronto Jewish Records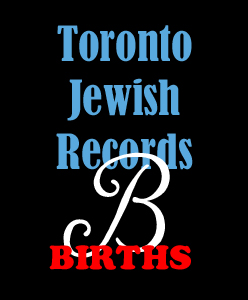 ◊ 850 more records added Sept. 25, 2019. 
◊ New records added, 2023. 
Background: This database contains a very thorough indexing of more than 6,650 records, representing almost all of the Jewish births registered in Toronto between 1907 and 1917, plus a small number of earlier "stray" records and from elsewhere in Ontario. There were inevitably some that could not be identified as Jewish and were therefore not included; while others with an uncertain Jewish connection were included but flagged in the Comments field. Source: York County Births, Archives of Ontario.
Details: These documents are particularly rich in details, often including: parent's address and place (address) of birth; place and date of the Parents' Marriage; name of the Informant and relationship to the newborn; and whether or not a doctor, nurse or midwife attended the birth.
Some records also give name-change information that may have occurred in later decades; even death information, copied from a relatively small number of the original documents, sometimes appears in the Comments field; a delayed registration is also noted, with place and date information if available. Corrections and alterations, too, have been noted (using shortforms "corr" and "alt").
The Search Results are grouped in such a way as to make it easier to see multiple births within the same family. Original microfilmed documents were handwritten and may be hard to read; please excuse the inevitable transcription errors!
How to Search: Three letters or more are required in the Newborn's Surname field. The data may simultaneously be searched by the Gender of the Newborn, and by part or all of the Newborn's First Name or Mother's Maiden Surname. It is also possible to narrow down the results by street name (e.g. Baldwin, Elizabeth, Queen, Terauley). A maximum of 24 search results will be returned; the search can be narrowed by utilizing any of the other search fields. ♦
---
Toronto Jewish Births (1907 – 1917)
---
Goad's map of central Toronto, 1910