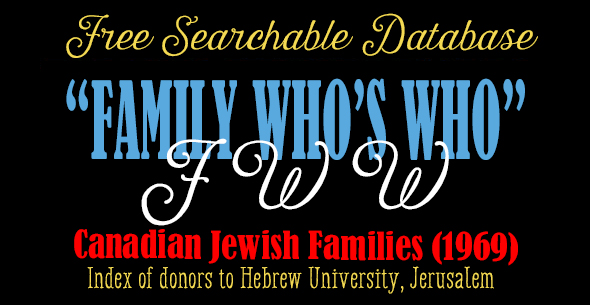 About this data base: The Hebrew University of Jerusalem published the first volume of Family Who's Who in 1969 as a way to honour Canadian (and a few South American) donors to the University. The entries are arranged alphabetically and a large majority of them include extensive genealogical information. Chairpersons of the project were Allan Bronfman in Montreal and Samuel Rothberg of Hebrew University in Jerusalem.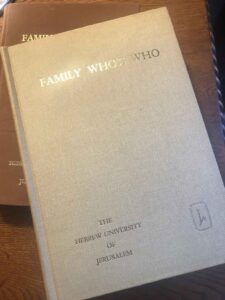 Hebrew University published a smaller second volume of Family Who's Who in 1976, updating and enhancing the genealogical information from the first volume. It is planned that both volumes will be searchable here. Eventually we hope to include all of the very valuable genealogical Extended Entries ("Forbears" and "Progeny") shown in the original two volumes.
We are grateful for the excellent and continuing work of Lea Shime who has been keyboarding and proofing all the entries for this indexing project.
Note: Only Surnames from A to G are included so far (Jan 2022) but Spouse Surnames go from A to Z. Watch for updates soon. Update: Surnames from A to J now included (Feb 2022). Update: Surnames A to M now included (Apr 2022). Update: Surnames N to Q now included (May 2022). Update: Surnames beginning with R added (Aug 2022). Update: Surnames beginning with S added (Oct 2022).
Below: Sample pages from Family Who's Who.