ONLY YESTERDAY: Collected Pieces on the Jews of Toronto
by Benjamin Kayfetz and Stephen Speisman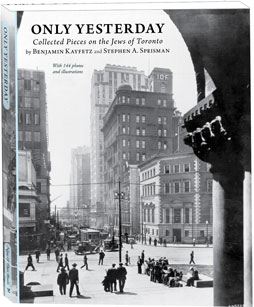 In this collection of 18 evocative pieces, the authors, both notable historians, recall the old synagogues, rabbis, communal leaders, politics, daily life, Yiddish press and theatre in  Toronto's old downtown "Ward" and Spadina neighbourhoods. Features lively articles on J. B. Salsberg, Emma Goldman, architect Benjamin Brown and others. With 144 photographs and illustrations from the City of Toronto Archives, Ontario Jewish Archives and the Stephen Speisman Photograph Collection. Softcover, 206 pages. A runner-up in the Canadian Jewish Literary Awards.
US $25.00 plus $3 shipping (includes applicable tax.)
Read More:
Toronto's old Jewish neighbourhoods centered in the Ward and on Spadina Avenue are vividly recalled in these 18 evocative pieces by Ben Kayfetz and Stephen Speisman, both well-known historians of Toronto's Jewish community.
Collected here for the first time are their colourful stories of the Jewish community and its daily concerns, synagogues and social institutions, Yiddish theatres and newspapers, and an assortment of memorable characters from Mayor Nathan Phillips to anarchist Emma Goldman.
Kayfetz is at his best as he explains the names of Toronto synagogues or reminisces about the city's once-formidable Jewish press. He also provides a lively sketch of the legendary J. B. Salsberg, revisits Spadina Avenue and Kensington Market of yesteryear, and recounts the days when discrimination against minorities was both legal and socially acceptable.
Speisman's articles include a masterful essay on the vanished downtown "Ward" neighbourhood where thousands of Jewish families settled upon first arriving in the city. He also sketches the history of the once-vibrant local Yiddish theatre and offers a profile of Benjamin Brown, Toronto's first Jewish architect who designed the Henry Street Synagogue, Balfour Building and other landmarks.
The text is enhanced with 144 photographs and illustrations, including dozens of photographs of former Toronto synagogues that have since been demolished or converted to other uses. Many were taken by Speisman and have not been published before. Additional photos came from the City of Toronto Archives, Ontario Jewish Archives, Archives of Ontario and various private collections. Softcover, 206 pages.
"[Editor] Bill Gladstone has assembled some of the most memorable articles of key communal insider Ben Kayfetz, whose productive pen and keen eye combined to produce vignettes of everyday Jewish Toronto from the 1930s to the '50s. Gladstone has also unearthed many excellent articles by Stephen Speisman, premier historian of the community and a founder of its archives. This fine collection, prefaced by Gladstone's excellent introduction, will appeal both to everyone who wants to remember a city all but vanished through urban redevelopment and to historians of these exciting eras in Toronto Jewish history."— Jack Lipinsky, PhD, author of Imposing Their Will: an organizational history of Toronto Jews, 1933–1948.