Purchase any book on this page from Now and Then Books (click here)
Books may be purchased from Now and Then Books via Paypal, credit card or cheque. Please visit site for details.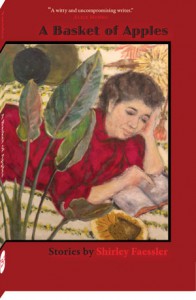 NEW FOR SPRING 2014!
A BASKET OF APPLES: Stories by Shirley Faessler
Possessing a remarkable ear for dialogue and a keen eye for the biting ironies of life, Shirley Faessler brings the magic of a born storyteller to these linked stories about a coterie of Jewish immigrants in Toronto's Kensington Market in the 1920s and 1930s. All six of the author's acclaimed "Kensington Market" stories are presented here for the first time since their initial publication in book form in 1988. "Indisputably one of Toronto's most gifted writers." — Toronto Star 
"A witty and uncompromising writer." — Alice Munro
$18.95 plus shipping + HST if applicable. (Discounts may apply)
ONLY YESTERDAY: Collected Pieces on the Jews of Toronto
by Benjamin Kayfetz and Stephen A. Speisman
Well-known chroniclers of Toronto's old downtown Jewish community, Kayfetz and Speisman wrote often about the old Jewish neighbourhoods in the 'Ward' and along Spadina Avenue. ONLY YESTERDAY features 18 evocative pieces about the old congregations and synagogues, the Yiddish press and Yiddish theatre, and a colourful cross-section of humanity that ranges from rabbis to prizefighters, community leaders to communists, with profiles of J. B. Salsberg, anarchist Emma Goldman, architect Benjamin Brown and other notable figures. With 144 photographs and illustrations including many taken by Speisman while he was researching his book, The Jews of Toronto: A History to 1937. Other photos from the City of Toronto Archives, the Ontario Jewish Archives and private collections. Former colleagues at Canadian Jewish Congress, Kayfetz was a member of the Order of Canada and Speisman a winner of the City of Toronto Book Award and founding director of the Ontario Jewish Archives. Softcover, 8″x 10″, 206 pages. $25.00 + $2 shipping (US & Canada only).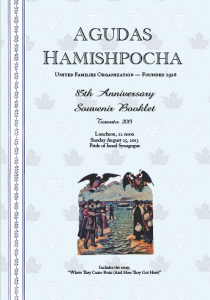 NEW for August 2013
AGUDAS HAMISHPOCHA 85th Anniversary Souvenir Booklet
Full colour booklet, 7″x10″, 44 pages, a souvenir of a lovely event held Aug. 25th 2013 at the Pride of Israel Synagogue, Toronto. Includes the photo-essay, "Where They Came From (And How They Got Here)." Many old photos of the Rubinoff-Naftolin family, both in their shtetls in Belarus and in the early years in Canada. Also includes pages of photos of family members at the 80th anniversary in 2008. This booklet is a must for every relative on the large extended Rubinoff-Naftolin family tree. All proceeds go towards the Agudas Hamishpocha. Price of $12 includes shipping anywhere in North America. To order please visit the website www.nowandthenbookstoronto.com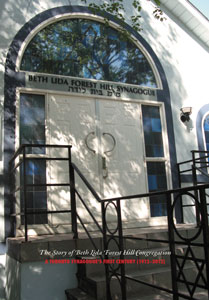 NEW FOR SEPTEMBER 2012!
The Story of Beth Lida Forest Hill Congregation: A Toronto Synagogue's First Century (1912–2012) 
History of a small but long-lived congregation from its earliest days in Toronto's old "Ward" neighbourhood, to its three decades on Augusta Avenue in Kensington Market, to its modern incarnation on Gilgorm Road, Forest Hill. Commissioned by Beth Lida, written by Bill Gladstone. Softcover, 7″x10″, 44 pages, many illustrations in full colour. With some genealogical sketches of some founding families. A collector's item. $12 + shipping.
One Foot in America, by Yuri Suhl
First published in 1950, this forgotten classic focuses on three years in the life of Sol Kenner, a good-natured Dickensian protagonist who arrives at Ellis Island at fourteen and settles with his traditionally religious father into a Brooklyn tenement. Filled with delightful dialogue and scenarios of Jewish life. "A fast-paced, entertaining picaresque . . . well deserving of being rediscovered." — Tablet Magazine, July 2011. Softcover, 5 x 8 in., 236 pages. $18.
The Rise of the Toronto Jewish Community, by Shmuel Mayer Shapiro
A colourful and authentic portrait of the community from its earliest days to about 1950, highlighting its strong immigrant and Yiddish flavour. Softcover, 6×9 in., 168 pages. $22 (+ $2 shipping) (Can. & US only)

I'm Not Going Back, by Kitty Wintrob
True-life memoir of a 10-year-old's evacuation from the East End of London to the British countryside during the first days of WWII. Kitty is determined to escape back to her Mom in London — a city soon under siege from German bombs. Softcover, 6×9 in., 174 pages. $18 (+ free shipping) (Canada & US only).
The Jew in Canada
Attractive facsimile edition of the 1926 classic volume, edited by A. D. Hart, offering sketches of Jewish communities across Canada and hundreds of biographical profiles with photographs. Softcover, 8.5 x 11 in., 578 pages; slightly abridged. SPECIAL: $32. (Canada & US only)
A History of the Jewish Community of London, Ontario,
from the 1850s to the Present Day, by Bill Gladstone
Highlights the period of intense immigration from 1900 to the 1920s and the subsequent waves of Holocaust survivors and later arrivals. Offers a wealth of family stories, profiles, community histories and rare photos. Pub. 2011. Hardcover, 8.5×11 in., 248 pages. $35. (Canada/US only.)
18 Months: A Love Story Interrupted, by Alan L. Simons
Poignant, autobiographical love story about a man and a woman and the illness that could not tear them apart. Softcover, 5 x 8 in., 110 pages. Regular $18, special $12.
One Hundred Years in Canada: the Rubinoff-Naftolin Family Tree, by Bill Gladstone
Very thorough family history of the large extended Toronto-based family that came from Belarus in the early 1900s. With hundreds of photographs plus maps and genealogical charts. Softcover, 8.5 x 11 in., 384 pages. By Toronto author-genealogist Bill Gladstone; published 2008. Regular $40. SPECIAL: $32.
Roots and Remembrance: Explorations in Jewish Genealogy
The best of Bill Gladstone's columns on Jewish genealogy. Contains tales of research triumphs, major research institutions, book reviews, etc. Published by Ontario Gen'l Society, 2006. Softcover, 224 pgs. Originally $27. SPECIAL: $20, plus shipping.
 ≈     ≈    ≈
 About Now and Then Books
The Tiny Publishing House That Grew
by Bill Gladstone, Senior Editor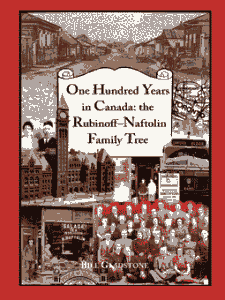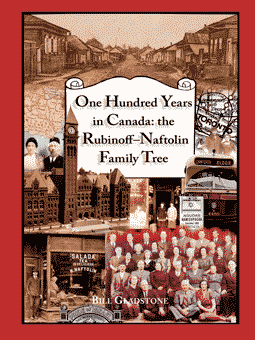 Aside from my activities as a writer, journalist and genealogist, I am also a publisher. I founded Now and Then Books in 2008 because I was self-publishing my own family history — One Hundred Years in Canada: the Rubinoff-Naftolin Family Tree — and felt it needed the weight of a publishing house behind it to help it make its way in the world.
Well, the book did quite well, and I decided that I was going to keep on bringing books into the world.
MEMOIRS BY LOCAL AUTHORS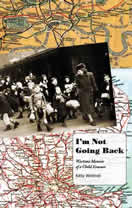 As a long-time editor and book reviewer for various publications, I am in a privileged position because I see a lot of manuscripts. I had seen one by Torontonian Kitty Wintrob that I thought was particularly fine: a lovely first-person memoir about her experiences as a school-child being evacuated from London to a foster home in the countryside at the start of World War Two.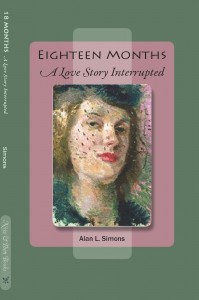 Kitty's I'm Not Going Back: Wartime Memoir of a Child Evacuee has been a popular success from the day it was published, and has launched Kitty and husband Ralph into a new career as speakers at  libraries, churches, schools and synagogues. (See Youtube video, below!) Purchase
Next into print was another memoir, Alan L. Simons' gripping Eighteen Months: A Love Story Interrupted, about his relationship with a woman with breast cancer.
MORE BOOKS ON JEWISH SUBJECTS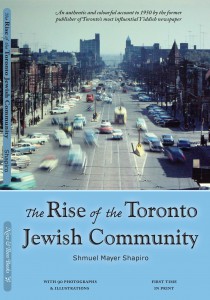 I've long been involved in Jewish genealogy and fascinated by the Jewish immigrant experience, and I wanted my book press to reflect that. I had written a history of Toronto's Beth Tzedec Congregation (due for publication in 2012) and during the course of research had discovered a fine unpublished manuscript about the early days of Toronto's Jewish community.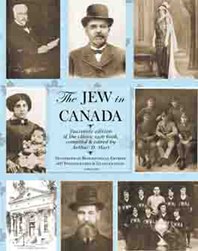 The title was The Rise of the Toronto Jewish Community and the author was S. M. Shapiro, late editor-publisher of the Yiddisher Zhurnal, Toronto's old Yiddish newspaper. It was too good to pass up and so I located Shapiro's daughter and negotiated publishing rights. The text was illustrated with some 90 period photos and illustrations. The book received a great launch as well as a great review by Cynthia Gasner in the Canadian Jewish News, and has been one of Now and Then's top performers.
I possess a rare leatherbound copy of A. D. Hart's classic work The Jew in Canada, which I have dipped into repeatedly to read its wonderful biographical capsules, synagogue histories, and discussion of communal enterprises. The book was first published in 1926 and has been long out of print. Now and Then Books brought out a slightly abridged, facsimile edition which again makes it available to all those with an interest in Canadian Jewish history.  
LONG-LOST CLASSIC OF JEWISH IMMIGRANT FICTION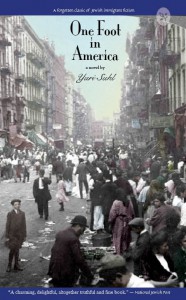 Now and Then Books expanded into fiction with the publication in 2011 of Yuri Suhl's neglected classic novel One Foot in America, which first drew good reviews in 1950, then dropped out of sight. The newly republished book received a glowing review by Toronto's Ken Sherman in Jewish Tablet Magazine in July 2011 and instantly became a star performer at Amazon.com. (Amazon also sells a Kindle version.)
The story focuses on three years in the life of Sol Kenner, who arrives in America in the 1920s, gets settled with his religious father in a Brooklyn flat, gets a job as a butcher-boy, falls in love, and learns how to become a "regular sport" and an American. Yuri Suhl is a sort of Jewish Dickens, eternally sunny and optimistic (although a realist) as he spins this charming semi-autobiographical story. Readers have been raving!
TWO MORE BY YOURS TRULY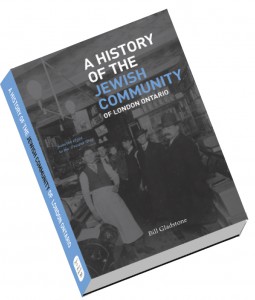 In 2011 Now and Then Books published my full-length study, A History of the Jewish Community of London Ontario: from the 1850s to the Present Day, which was commissioned by the Rubinoff Family of Toronto (formerly of London).
Now and Then Books also carries my earlier book Roots and Remembrance: Explorations in Jewish Genealogy, that the Ontario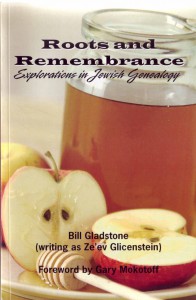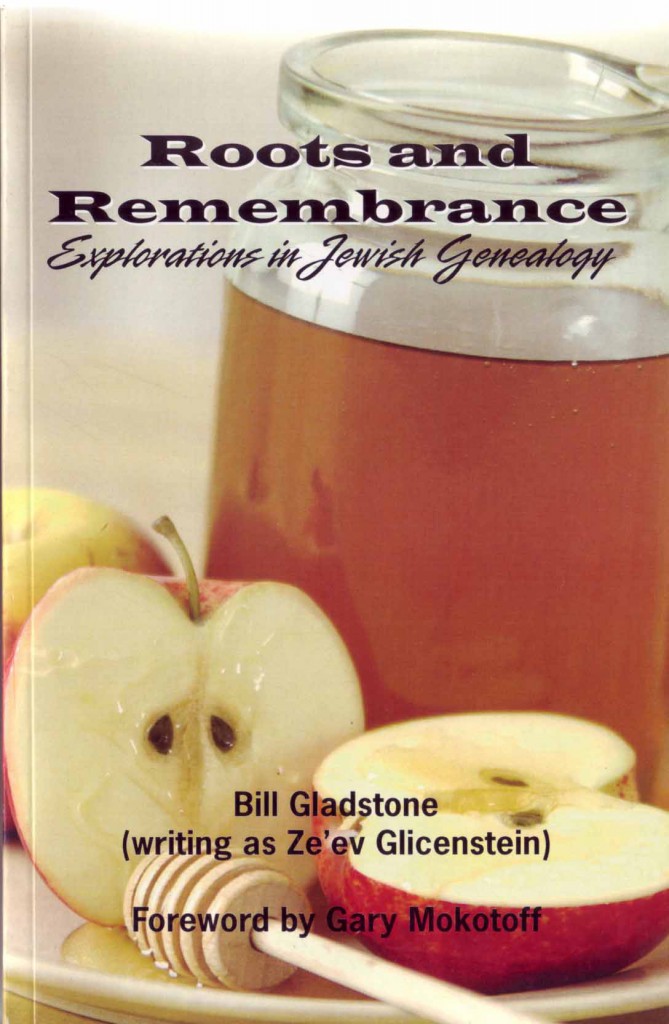 Genealogical Society published in 2006. Finally, Now and Then has also published some books for private clients.
So that's the story of Now and Then Books 'til now. Yes — we're the tiny publishing house that grew. We're still tiny . . . and still growing!
Please visit the company website at www.nowandthenbookstoronto.com for more details. Or click here to purchase any of these books.
SUBMISSIONS OF MANUSCRIPTS . . . OR COMMENTS
Please write if you feel you would like to submit a manuscript to us for consideration or editorial assessment (fee applies). We're always looking for good material!
Send a comment to me at bg@billgladstone.ca to let me know how you have enjoyed any of our books!
KITTY WINTROB VIDEO