Emma Lazarus, who died 120 years ago at the premature age of only 38, fixed her place in American literary history through her poem "The New Colossus," which famously graces a bronze plaque at the base of the Statue of Liberty.
Some of its stanzas are too well known to bear repeating even today, but, ironically, the poem languished in obscurity for years after Lazarus penned it and only came to light through an accidental discovery in a bookshop.
Like various other authors including Walt Whitman, Bret Harte and Mark Twain, Lazarus had been approached in 1883 to submit a poem to be auctioned off to raise funds for Miss Liberty's pedestal: this was to be a people's monument. At first the American-born poetess insisted she "could not possibly write verses to order," no matter how worthy the cause.
Unsatisfied with this response, Constance Cary Harrison, one of the chief fund-raisers, tried to spur and inspire her: "Think of the Goddess of Liberty standing on her pedestal yonder in the bay and holding the torch out to those refugees you are so fond of visiting at Ward's Island," she said; and as Harrison  would later recall, "the shaft sped home."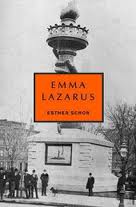 Lazarus submitted her poem two days later; it became part of a collection auctioned off for $1,500, then was promptly forgotten. New York's towering lady of the harbour was dedicated in 1886 and Lazarus died the following year, never imagining her name and verses would become intricately linked with the iconic statue.
The poet's friend, artist Georgiana Schuyler, discovered the poem in a bookstore in 1903 and arranged for its words to adorn the bronze plaque. By this action, the famous statue was given a cultural context that took in the sweep of history. It would not be just a glorified harbour ornament but rather a poignant celebration of American democracy and freedom. Appropriately enough in the age of mass inbound immigration, Lazarus's famous lines redefined the statue as a welcoming beacon for the "tired . . . poor . . . huddled masses" of Europe, fleeing regimes where the older colossi of tyranny and repression were still untoppled.
As Esther Schor notes in her recent literary biography Emma Lazarus: The New Colossus (Nextbook Schocken, 2006) soon went into eclipse, but not before "yoking statue and immigrants" together for the first time in the public mind, an association that other artists soon began to cement.
The poet's reputation was given another boost with the discovery in 1980 of a previously unknown cache of her personal letters. Published in 1995, they became the impetus for Schor's probing scholarship, which penetrates deeper into Lazarus's personality and personal life than any previous biographer.
Born to a wealthy Jewish family in New York City in 1849, Lazarus made an impressive literary debut at age 17, corresponded with Ralph Waldo Emerson and Henry James, and turned her pen to burning issues of Jewish concern such as the Russian pogroms. "She was a woman so far ahead of her time that we are still scrambling to catch up with her — a feminist, a Zionist and an internationally famous Jewish American writer before these categories even existed," Schor writes.
Besides poetry, Lazarus dabbled in a variety of forms, including theatre criticism, historical essays and dramatic monologues. She wrote a novel about Goethe and translated the writings of Heinrich Heine, the German Jewish poet. She was an outspoken critic of racial prejudice and an untiring defender of the Jewish people at a time when the doors of many private clubs and establishments in America were closing to them. She was an articulate, one-person Jewish Defense League of her day, publishing articles in some of America's top magazines and relying only on the strength of her words to win the debate.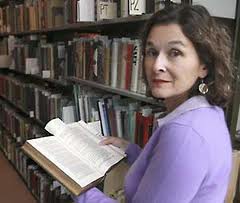 Schor describes her subject's visit to a temporary refugee shelter in Ward's Island in New York harbour following the rash of violence in Russia in the early 1880s. Deeply moved by what she saw, Lazarus worked to help the Jewish refugees find homes, jobs and a respected place in America society. Her sympathy for the plight of the impoverished, transplanted immigrants found perfect expression in "The New Colossus."
American writer Ralph Waldo Emerson was already a literary colossus when he became acquainted with Lazarus's poetry; they began a correspondence and she dedicated a volume to him. Generous in his praise for her work, he became an important mentor and support to her. Regrettably, she took it as a personal affront when he chose not to include one of her poems in an anthology he had edited, and wrote him a letter bristling with disappointment.
"I can only consider this omission as a public retraction of all the flattering opinions & letters you have sent me, & I cannot in any degree reconcile it with your numerous expressions of extravagant admiration," she wrote. " . . . This public neglect is in such direct variance with the opinion you have expressed to me in private, that it leaves me in utter bewilderment as to your real verdict . . . ." The letter went on much longer in the same vein. Although she requested a reply from the aging writer, he gave none; when they met months later for the first time, she was again disappointed at how closely Emerson's wife guarded access to him.
Lazarus, although Jewish and a woman, was considered a writer of the first rank in her day. She was a champion not just of Jewish liberties but of universal civil rights and the best in American democratic ideals. She celebrated her various identities fully in sympathy with the spirit of Whitman's famous poetic proclamation, "I am large, I contain multitudes." For this, she deserves to be remembered as Esther Schor has done so well — as a trailblazer who left a positive and indelible mark on American letters and life. ♦
© 2006