Shanghai's Baghdadi Jews: A Collection of Biographical Reflections, by Maisie J. Meyer, author and editor. Large format, 480 pages, softcover. Blacksmith Books, Hong Kong, 2015.
Shanghai's community of Ashkenazic Jews, who arrived from Poland and elsewhere in Europe in the early 20th century and in advance of the Holocaust, is already fairly well-known. What is not so well known is that there was an older established group of Sephardic Jews already in Shanghai since the mid-19th century.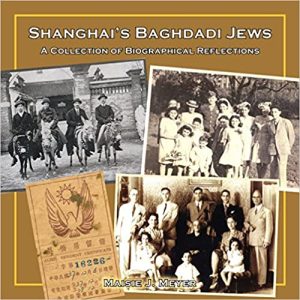 The Baghdadi Jews of Shanghai had come from Iraq or indirectly via India. "Although their status within the colonial establishment brought privilege and wealth, it was the uniqueness of this large cosmopolitan city that allowed them to live their lives as they wished, without fear of pogroms or persecution," writes Irene Eber in a short foreword.
Elias Sassoon (1820-1880), who pioneered the Jewish settlement in Shanghai about 1845, recruited office managers, clerks and warehousemen from Baghdad and India, for use in his family's commercial enterprises in Shanghai. In an introductory essay, Meyer provides a thorough history of this enclave of foreign nationals in China.
"Although only a tiny minority within the large foreign community, Baghdadi Jews participated in almost every aspect of business and professional activity," she writes. "Initially, the development of the city was further advanced by the tea, silk and opium trades: merchants usually bartered cotton piece goods (textile fabrics made in standard lengths) for silk and tea. By 1895, there were about 175 Baghdadi Jews in the foreign enclave, largely involved in the import of cotton and opium from India."
The book offers more than two dozen biographies of community members and families, some of whose names — Hardoon, Abraham, Nissim, Kadoorie, Jacob, Reuben — should be familiar to those who have read something of Jewish commercial enterprises in the East. Many of the various authors relied upon previously unseen diaries and archival materials as they document the larger-than-life personalities who witnessed the Sino-Japanese War, the occupation of Shanghai and the Chinese Communist Party's rise to power. Many photographs enhance the text.
I first came upon this book while doing some genealogical research on behalf of a client. I saw it listed on Amazon and ordered it on nothing more than a hunch. As soon as it arrived I sat down with it and found several pertinent sections focused precisely upon the ancestors I was seeking. I feel a debt of gratitude towards the book and its compiler, Maisie J. Meyer for helping me solve some of the genealogical mysteries with which I was then entangled. ♦