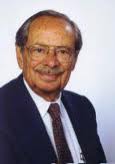 Barnet Berris, born in Toronto in 1921, became the first Jewish doctor appointed to the full-time staff of the University of Toronto's department of medicine in 1951.
In Medicine: My Story (U. of T. Press, 2002), Dr. Berris tells the story of his career. The book elegantly details the changes he observed in medicine during 46 years of practice, and illuminates the history of Jewish doctors in Toronto from the dark era of quotas to the present, when merit is regarded as the key criterion of acceptance of any doctor to a staff position.
Although Berris graduated in the mid-1940s as one of the top ten students in a class of 126, none of Toronto's teaching hospitals would accept him as an intern. He was the only student from his class who had not been "matched" to an appropriate position. Through persistence he was permitted to see the Toronto General Hospital's list of candidates — and was "stunned" by what he saw.
Beneath the Toronto General's list of acceptable candidates, another three names appeared under the heading "Hebrew list." His own name appeared in yet another category below this, titled "Alternate Hebrew."
The Toronto Western Hospital's list, was even more restrictive, he writes. It contained only one Jewish name, belonging to the gold medalist of the graduating class.
After a year interning at St. Joseph's Hospital and a stint in the army, Berris joined the University of Minnesota in Minneapolis for a three-year residency. Then, with excellent references and credentials, he reapplied to the University of Toronto's department of medicine.
The Toronto General refused him a full-time position but offered a temporary fellowship, perhaps as a means of getting around the unspoken restriction against Jews, Berris writes. But the old cultural barriers were indeed breaking down: he eventually rose to become chief of medicine at Mount Sinai Hospital.
"You might ask why I tacitly accepted overt antisemitism from a medical school without taking any action," he writes. "The reason was that in the 1940s, there was no mechanism available to bring about any change in this area. Bias against not only Jews, but also other ethnic and minority groups and women, was common. It was difficult to go public, there were no laws prohibiting such activities and minority groups at that time had very little influence, political or otherwise."
Berris writes that the accepted stance among Jews at the time was to keep quiet and not make waves. He tells an old story about two Jews, facing a firing squad, who are asked their final wish. One asks for a cigarette; the other turns to him and says, "Shh, don't make trouble."
If Medicine: My Story details the opening up of the medical community in Toronto over the last half century, it also stands as a chronicle of an illuminating and multi-faceted medical career. It is a welcome addition to the historical record of both the Jewish community and the medical community. ♦
© 2002