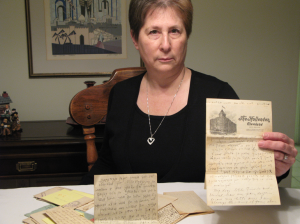 North York resident Debbie Rose, who has been fervently researching her family tree for the past several years, has found a large trove of old Yiddish letters of historic significance that she hopes to get translated into English.
The letters, some dating back to the end of the 19th century, belong to a relative in Albany, New York, who inherited them from his grandfather, Leon Malmed, who was Rose's great-great-uncle — the uncle of her grandmother.
Malmed was an Albany delicatessen owner and a close associate and lover to anarchist Emma Goldman. The letters were sent to him from his friends in various places.
"There may be a thousand letters in all, maybe more," Rose said. "They haven't been counted. There are just boxes and boxes of them."
Another 450 letters, postcards and telegrams from the same collection, most from Goldman to Malmed, were donated some years ago to the Schlesinger Library at Harvard. (Malmed didn't save copies of his own letters, which are presumably lost.)
Malmed's grandson sent Rose an assortment of 15 letters, which she had professionally translated. One was written by a soldier stationed in San Antonio, Texas, in 1898 during the Spanish-American war, just before he was to be shipped to Manila. Another came from a friend about to get married, who apologized that he would have to stop writing because his "wife " was kissing him and he had to kiss her back.
"Some of them are personal family letters," Rose said. "They're good for genealogy. From one letter I was able to reconstruct the entire branch of the family tree." But she contends the letters have a universal appeal because they provide a privileged glimpse into the radical Jewish milieu of about 75 to 100 years ago.
A Russian-born Jew, Malmed came to the United States about 1895 and was variously a cigarmaker, delicatessen operator, and proprietor of a hosiery store in Albany. Despite his business activities, he was an anarchist at heart and became swept up in the radical movement. Despite having a wife and three kids at home, he went on the road with Goldman and had an affair with her that lasted years. He died in 1956.
"He was a very colourful character," Rose said. "He got up and left his wife and family to travel all over the United States [and Canada] with Emma Goldman. His poor wife, you can see the amount of stress she was under in the letters she wrote to him."
A corporate ESL trainer, Rose says that the Jewish Family History Foundation of Encino, California has offered to provide a US tax receipt to anyone willing to contribute funds towards having the letters translated, and that the National Yiddish Book Centre of Amherst, Massachusetts has also been "very enthusiastic" about the letters.
She is seeking professional translators as well as one or more patrons willing to underwrite the translation process. She may be contacted via email at bdebrose@ rogers.com.
Is she excited at the prospect of having the letters translated? "That's an understatement," she replied. "It's tremendously exciting because you don't know what you're going to find in them." ♦
© 2011