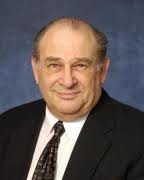 As a volunteer for the Survivors of the Shoah Visual History Foundation, the organization created by filmmaker Steven Spielberg, author Alvin Abram gained first-hand knowledge of the experiences of Holocaust survivors.
In his recently published seventh book, The Minyan, Abram combines his flare for detective crime mysteries with a story about the Holocaust, featuring locales in Toronto and many other parts of the world.
The Minyan, a 428-page soft-cover book, is Abrams' second novel in a trilogy centred around Det. Gabe Garshowitz, a hard-boiled, arthritic, 30-year veteran of the Toronto police force who is partnered with Det. Iris Forester, an attractive divorcee half his age.
The novel is a mystery in which reporter Rachel Ackerman follows up on a journal that purports to tell the story of 10 Holocaust survivors who pledge to kill 10 people who were in Birkenau and who the journal says don't deserve to live.
At the same time, not realizing his case is linked to Ackerman's journal, Garshowitz and Forester are investigating the discovery of 30-year-old bones found in a home that is about to be demolished on Euclid Avenue in Toronto.
Abram, a 70-year old author, speaker, businessman and award-winning volunteer, has lived with Attention Deficit Disorder (ADD) since childhood. A graphic designer by trade, he has also overcome numerous life-threatening events, including five heart attacks, and has coped with his wife Marilyn's battle with cancer.
Yet, he shows no signs of losing his enthusiasm for life, or his late-in-life emergence as an award winning author.
"In 1995, after I had a severe heart attack, my wife asked me if I had any regrets," he said.
"I said that I regretted not going back to school, as I was a high school dropout and I had stories in my head and didn't know how to write them. Without telling me, she enrolled me at York University in a fourth-year writing course, and now the rest is history."
His previously published books include Why Zaida?, The Light After The Dark (parts 1 and 2), The Unlikely Victims, An Eye For An Eye and the anthology Stories I Wrote.
He said his interest in literature came partly from his father, Herman Abramovitz, who was the editor of Vochenblatt, a workers' newspaper published in Yiddish.
But he also credits his mother, Annie Abramovitz, who worked in a Spadina Avenue sweatshop, with inspiring him. She once told her young son, "Never forget your dreams. But you must learn to live in today's world as well. Maybe, someday, you'll be able to use your gift so everyone can enjoy your dreams."
Abram's books are available at bookstores throughout Canada, or via e-mail at bubbameinsa@yahoo.com. ♦
This article appeared originally in the Canadian Jewish News and appears here courtesy of the author. © 2006 by Cynthia Gasner.