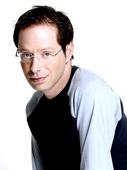 Israeli actor Amitai Kedar visited family in Toronto last week before beginning an 11-week North American road tour of the popular Gershwin musical My One and Only, in which he plays a Russian impresario, Prince Nikolai.
Born in Toronto in 1969, Kedar grew up in Israel where he graduated from Tel Aviv University's School of Performing Arts. His roles have included that of the bridegroom in the national Habima theatre production of The Dybbuk.
Aside from his appearances in numerous Hebrew independent productions and film and TV dramas in Israel, he's drawn attention for his roles in a handful of Yiddish plays, including Avraham Goldfaden's Kuni Lemel. His growing involvement in the small closed world of Yiddish theatre seems all the more remarkable because, at least initially, he didn't know any Yiddish: he learned his lines phonetically.
Last year Kedar participated in an acting workshop in New York, then stayed in the Big Apple to act in The Lady Next Door, the Leon Kobrin play about the Jews of the Lower East Side, mounted by the Folksbiene Yiddish Theatre of Manhattan. He's been involved in a growing list of projects in New York ever since.
Because his English accent sounds generically European, Kedar has been passed over for several English roles to play Israelis, he reported; more typically, he lands parts of exotic foreigners, like Prince Nikolai. He's also done Shakespeare: he played Egean in a memorable production of Comedy of Errors. And last June, he gave what one reviewer called a "stand out" performance as a Catholic priest in the play Love in Great Neck.
While he seems cautiously pleased by the momentum his career is attaining, he acknowledges it comes with a down side. "In order to do what I love to do, I'm paying some prices," he said. "For one thing, I'm out of Israel. That's a big price to pay because I miss it."
He's likely to remain away from Israel for some time. After the Gershwin road tour, he's got a film role lined up for April. Other significant roles are likely waiting in the wings. ♦
© 2007