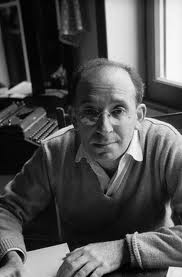 In a literary career that stretched roughly from 1940 to his death in 1986, Bernard Malamud wrote a handful of acclaimed novels, including The Natural, The Fixer and The Assistant.
Between the novels, the Pulitzer Prize-winning author refined his artistry by writing short stories.
For the first time, all of Malamud's short fiction has been gathered together in a single book which was published a while ago in hardcover. Republished recently in softcover by Noonday, Bernard Malamud: Collected Stories ($26.95) contains 55 stories — and 55 good reasons why Malamud was called Peretz's literary heir by some, and a Chekhov of the East Side by others.
The son of immigrant shopkeepers in Brooklyn, Malamud wrote tightly-crafted stories about first-generation Jews in a variety of peculiar but realistic predicaments. Their speech, inflected with Yiddish dialect and cadences, is the language of the stranger in a strange land, the nuanced English of immigrants and the children of immigrants.
The quality of the stories wavers from very good to outstandingly wonderful. In the latter category are such masterpieces as The Magic Barrel, Rembrandt's Hat and The Silver Crown. Cynthia Ozick once heard Malamud read The Silver Crown, and her first reaction was reportedly to wish with all her heart that she had written the story herself.
Many of the stories combine a gritty low realism with elements akin to magic, folktales and the fantastic. In The Silver Crown, the son of a dying man, although intensely rationalistic, seeks a spiritual healing cure from a mysterious Bronx rabbi, but quibbles over the size, price and efficacy of the silver crown that the rabbi says will cure his father.
In The Magic Barrel, another man seeks help from another professional — this time a rabbinical student and a matchmaker. Both stories reflect Malamud's tremendous agility with the form and economy of the short story, and his skill with the unexpected ending. The writer once told an interviewer that he learned to condense his verbal tales from his father. "Vos hoks du mire a chinik?"  — "What tune are you banging on your pot?" — Malamud Sr. once told Bernard when the latter was conveying a long tale about his mother's cousin.
Some of the stories reflect his parents' lives more directly. Several (for example The Grocery Store) are set in grocery stores. They are usually painted as drab prisons, and their proprietors trapped in small, confined lives.
To paraphrase the late-19th-century British novelist Israel Zangwill, Malamud's stories seem to focus largely on the children and grandchildren of the ghetto. His characters are transplanted to the vast sparkling land of America, but they are hemmed in by the small rooms and vistas of their adoptive land as much as they are still bound by old world traditions, perceptions and ideas. Their situations are often ironic, their attitudes often pessimistic, as though they are just discovering that America's streets never were paved with gold.
Malamud wrote with equal talent about Gentiles in his handful of 'Italian' stories, including The Maid's Shoes and Life Is Better Than Death. These pieces focus on Americans transplanted to Rome, a landscape they can never truly understand.
All in all, surprises and delights await the sensitive reader who picks up this wonderful collection. Presented chronologically, the stories are bound to whet the appetite for Malamud's larger works. ♦
© 1998