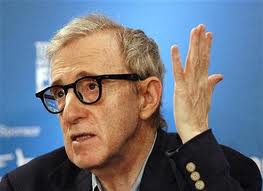 Woody Allen once famously quipped: "I don't want to achieve immortality through my work. I want to achieve it through not dying."
Whether or not he achieves his wish, his name has already attained the poetic equivalent of immortality due to his extraordinary film career. Although the celebrated writer-director has often portrayed himself on screen as a comical Jewish intellectual "nebbish" from New York, full of existential doubts, fears and paranoia, he has carved a distinguished niche for himself in American culture and the modern cinema.
My personal list of favourite Woody Allen films includes Broadway Danny Rose (1984), Hannah and Her Sisters (1986), Radio Days (1987), Husbands and Wives (1992) and Sweet and Lowdown (1999). I consider 2005's Match Point, starring Scarlett Johansson and Jonathan Rhys Meyers, to be his finest production. Sharply written and beautifully directed, it is superior even to the admirable Crimes and Misdemeanors (1989), which shares a similar plot.
In both films, a married man involved in an adulterous relationship murders his increasingly demanding lover and gets away with it, opening up central existential issues dealing with fate, luck, justice and the existence – or non-existence, as Allen often puts it – of God. A significant difference between them is that Allen played a minor comic character in Crimes and Misdemeanors, but wrote himself entirely out of the script of Match Point.
His filmography also includes Play It Again Sam (1972), Annie Hall (1977), Manhattan (1979), Stardust Memories (1980), Zelig (1983), The Purple Rose of Cairo (1985), Everyone Says I Love You (1996) and at least a dozen others, almost any of which might have catapulted someone else to the uppermost ranks of critical attention.
Allen made a string of mediocre and poorly received films in the mid-1990s. The period coincided with his breakup with his longtime partner Mia Farrow, upon her discovery that he was having an affair with her adopted daughter, Soon-Yi Previn. Allen married Previn and kept to his rigourous output of roughly one film per year, astonishing many of his loyal fans who thought his artistic vision could never fail him. Some critics assert his dry spell lasted about a decade and hailed Match Point as a sign that he had finally returned to form and was again at the top of his game.
Eric Lax, an American writer on the arts and author of a now-outdated biography of Allen, has conducted dozens of illuminating interviews with Allen in dozens of film sets, hotel rooms and other locations over the last 30 years. An astute critic with no shortage of intelligent questions and observations, Lax's wide-ranging conversations with Allen provide the reader with a candid portrait of the artist in his own words. Film buffs and fans of Woody Allen will appreciate this opportunity to learn more about the man, his methods of film-making, his opinions on art and, above all, his means of nurturing his own prolific creativity.
Allen views his own abilities without delusions and with much apparent realism. He succinctly expresses his limitations as an actor as adeptly as any critic. He realizes that he is a limited comic type, projecting an innately laughable screen presence that an audience will accept in only funny roles, never as the protagonist of a serious drama. Consequently, he prefers to write himself out of scripts entirely (as in Match Point) or else to create only peripheral parts for himself (as in Crimes and Misdemeanors).
He considers comedy harder to accomplish but less emotionally satisfying than serious drama, but has had limited critical success with his repeated forays into more serious, Bergmanesque-type cinematic landscapes, as in Interiors (1978), Stardust Memories and Shadows and Fog (1991). He resists the public's insistence on pigeonholing him too tightly into comedy.
"When comedy approaches a problem, it kids it but it doesn't resolve it. Drama works through it in a more emotionally fulfilling way. I don't want to sound brutal, but there's something immature, something second-rate in terms of satisfaction when comedy is compared to drama. And it will always be that way. It will never, never have the stature of Death of a Salesman or A Streetcar Named Desire or Long Day's Journey into Night."
Allen utters high praise for cinematic masters like Bergman and Fellini, but has no compunction against knocking the great Bard of English literature from his traditional pedestal, as if with a clumsy elbow. Only a bravely creative mind like his could observe, with compelling originality, that Shakespeare is an unskillful playwright. Allen admits that he admires "not so much [Shakespeare's] plays but the words of the plays. They're written so beautifully. I don't find any of his comedies funny, but the speech is so magnificent, it's so gorgeous, that you're overcome by it. But I find the plays dumb and bumpkin-oriented and aimed at the groundlings. The serious plays have some really beautiful moments, but often they're not constructed at all well. But you sit through them because the language is so elevated."
Surprisingly, Allen asserts he has an innate sense of movie-making but no equivalent literary sense. "I didn't absorb literature in the same way as I absorbed movies or had comedy built into me," he says. "So when I finish a manuscript I have to show it to people and ask, 'Is this a book? Is this a novel?' It wouldn't surprise me if a person said, 'You have not written a novel. You have a good outline for a novel,' or 'This has the makings of a good short story.'"
Regarding his own artistic accomplishments, Allen asserts that he has had every opportunity to make a cinematic masterpiece, but lacks the determination and depth of vision to do so. "I've had carte blanche for 35 years and I've never made a great film," he says. "I'd like to make a great film provided it doesn't conflict with my dinner reservation."
Allen writes with pen and notepad, often producing many pages of near-finished scenes at a sitting. Although it may appear that he writes quickly, he explains that he spends many hours deliberating about character and plot, and "the thinking is the writing; the writing is (just) the writing down." He has an extraordinary ear for dialogue and is known for his rare ability to write female and male characters with equal depth. When he pens a comic line of dialogue, he often laughs as if hearing it for the first time. "I'm in the room and I write the joke or say the joke out loud and it's coming from my unconscious, so I'm hearing it and I laugh at it like a stranger."
Another intriguing element of his creative modus operandi is his insistence that his cast members see only the pages of the script that they need in order to learn their dialogue; as in real life, his characters are otherwise kept in the dark about what is going to happen. "No one has ever complained to me about not getting a full script," he explains. Indeed, big-name actors are thrilled to be invited to read for a Woody Allen part, even though his production company cannot offer them mega-millions, as big-budget production would. Even so, many grab the chance to be part of Allen's cinematic "immortality."
Celebrity hasn't turned Allen's head or made him a different person, it turns out: mostly, it just gets in the way of what he wants to do. "After I had my first successes, which I needed to get established, it didn't mean much to me," he said. "Not that I'm an ingrate. I'm thankful for my luck, but to me, no success or honor bestowed on me can alleviate my genetic gloom."
Conversations with Woody Allen splices together many discussions between Lax and Allen. They are arranged thematically according to how Allen constructs movies – conception, writing, casting, shooting, directing, editing, scoring – with the result that there sometimes seems to be a cut-and-paste quality to the flow of ideas. Reading everything Allen has to say about Match Point, for example, means flipping to more than a dozen pages throughout the book. Had this been a movie, I'm sure that Allen would have found a better way of editing the material. ♦
© 2008