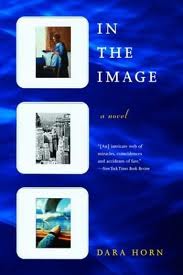 Twenty-six-year-old New Jersey-born author Dara Horn, whose first novel In The Image has generated a wave of enthusiastic reviews and awards, says that one of the stories that inspired her to write it was a sort of urban myth about Jewish immigrants who, upon reaching America, tossed their tefilin into New York harbour.
She first heard the story from a classmate at Harvard (where she is now completing a PhD thesis in Hebrew and Yiddish literature) and later realized the story was a familiar legend to many elderly American Jews. But what "clinched it" for Horn, who recently spoke at Israel's bookshop in Toronto, was hearing about an unidentified museum in Nova Scotia that has an exhibit featuring "a set of phylacteries [tefilin] removed from the floor of the Atlantic."
The tefilin-in-the-harbour story is vintage Horn — arcane, peculiar, double-varnished, heavily laden with Jewish symbolism, and reflective of a parallel universe where realistic events take on almost magical overtones. Whether they're about tefilin fished out of New York harbour or a human skull found in a junk shop that proves to be the missing link, many of the tales Horn tells have to do with loss and recovery, she observes.
"They're all about recovering something," she said. "What someone throws away, someone else will bring back."
In The Image focuses on two Jewish characters — Leora, a young American woman, and Bill Landsmann, the Viennese-born grandfather of her lost friend. The book opens with their first meeting, where they infamously fail to hit it off as friends. Subsequent chapters intermittently follow Leora's life forward in time and Bill's life backward in time, highlighting the multiple coincidences of person, place, chronology and event that link these two unlikely ships passing in the night.
"There are all sorts of connections between their two families that they're not aware of," Horn said. "They never do find out — only the reader finds out."
The book is meant to make us aware "how little we know about other people, and how much what you think you know is just your assumption. You can't really know anything about anyone other than what they happen to show you."
Readers may be excused for thinking the novel an appealing intellectual experiment that puts ideas above characters. According to Horn, she began by collecting stories and ideas that appealed to her, then invented a range of dramatic personae to bring them to life. "I think any serious novel is a novel of ideas," she said.
Following the custom of the great Hebrew and Yiddish writers whom she regards as mentors, Horn has also woven elements of Jewish sacred literature into her novel, most notably from the Book of Job. Clearly modeled after Job, a chapter of In The Image focuses on the tribulations besetting her ironic hero, Bill Landsmann.
In The Image has become a favourite of Jewish book clubs, so much so that Norton included a 16-page Reading Group Guide at the end of its paperback edition. Yet its author fails a basic thumbnail test of good literature — being able to tell what the book is about in a single breath or while standing on one leg. She said it may be a "coming-of-age" story about Leora, but quickly added the events could have happened "at any moment in a lifetime."
Still, that hasn't stopped the laudations, fan letters and literary awards from piling up. The book has won three prizes for Jewish fiction, including the $5,000 Reform Judaism Prize and the Edward Lewis Wallant Award, whose previous winners have included Chaim Potok and Cynthia Ozick. Those honours must have pleased Ruth Wisse, Horn's Canadian-born advisor at Harvard, nearly as much as it did her husband Brendan Schulman, former Winnipeg resident and now a commercial litigation lawyer in New York.
Horn shrugs at the coincidence of having two ex-Canadians so close by. Many more extraordinary coincidences certainly lie waiting in the wings, she insinuates; some, no doubt, will be the stuff of the second novel she is currently writing for Norton. ♦
© 2003