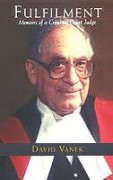 David Vanek, a retired provincial criminal court judge, has produced a highly readable volume of memoirs that illuminates his family's early history in the Toronto area, numerous historical matters pertaining to the local Jewish community, and his 21-year career on the Ontario bench.
Fulfilment: Memoirs of a Criminal Court Judge (Dundurn Press, 1999) shows the warm human side of the man whom the Toronto Star once described as "a crusty, tough-minded, fiercely independent provincial court judge."
The book indicts Vanek as a fair-minded, rational, and frequently funny man who does not shrink from admitting his faults. Although his courtroom demeanour did not hint at it, the judge is a talented raconteur.
Vanek was born in a hamlet near Newmarket in 1915. His parents ran a tiny resort called Cedarholm Park at Lake Wilcox, just north of Toronto, which offered a bandstand, cottages and a refreshment stand specifically for Jews, who were then excluded from neighboring establishments.
At the University of Toronto, where he studied law, he joined the first Jewish fraternity and met Lou Weingarten and Frank Shuster, who would become the famous comedy team of Wayne and Shuster. Later, as a soldier in wartime England, he encountered them unexpectedly during one of their performances for the troops. To the great surprise and hilarity of all three, he stepped forward just as they called for a volunteer for a magic trick. "What perfect timing!" he writes. "Ascending the stage was virtually involuntary. I could not possibly have resisted the temptation."
Another memorable moment occurs as Vanek, stationed in an English town at war's end, makes an unauthorized visit to London as the victory over Japan is announced. "I was one of the huge throng that lined Whitehall to witness the procession of royalty for the opening of Parliament that day. I was also amongst the huge gathering of people, joyous and tearful, celebrating VJ Day at Trafalgar Square and Piccadilly Circle. Finally, I was crammed within the immense gathering in front of the palace wildly cheering the royal family as the King, Queen and Princesses appeared on the balcony and waved to their subjects and well-wishers."
After an admittedly indifferent career as a soldier, Vanek led a distinguished career as a lawyer and judge, and became involved in numerous public causes. As he relates, he once ran for office as a Conservative MPP at Queen's Park; he lost the election. He also helped to found the Credit Counselling Service of Toronto as well as an influential midtown ratepayers' association.
Without question, Vanek is best known for his handling of the sensational Nelles case, in which a nurse was charged with murdering four infants at Toronto's Hospital for Sick Children. In Fulfilment, he offers an illuminating chapter describing the preliminary inquiry he conducted and his eventual ruling that insufficient evidence existed to bring Susan Nelles to trial.
He made that decision knowing that another 20 babies had also died at the hospital under highly suspicious circumstances. "In the end," he writes, "how twenty-four babies, who were not expected to die, came to their death … remains a mystery."
In Fulfilment, Vanek combines personal family history, social history and legal history into an interesting and absorbing read. ♦
(Postscript: This book will be especially interesting for relatives of the Alexander family of Toronto, whose number includes both David Vanek and Bill Gladstone.)
© 1999
Note: you may also wish to read Former Vanek family resort to become a park