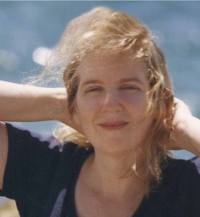 Montreal resident Edeet Ravel admits that she's been fairly negligent until recently about getting her writing into print.
A teacher at a Montreal-area high school until last year, the Israeli-born author expresses amazement that the British publisher Headline found her letter on its slushpile of unsolicited manuscripts and was interested enough to ask to see more than the five manuscript pages of a novel that she had sent. Ravel dispatched the full manuscript and the firm accepted it almost immediately for publication under its Review imprint.
Ten Thousand Lovers has made an auspicious debut as a first novel since its publication earlier this year in both England and Canada. Republication rights have already been sold in six languages and the American publisher Harper is slated to bring out a paperback edition in the United States in September. A three-city US publicity tour has been arranged for the fall.
Additionally, Ravel has signed a deal for a second novel with both Harper and Random House Canada, and has in fact already delivered a completed manuscript to them. Now she's looking at the many other manuscripts that she's stuffed into drawers over the years. All this because she decided to make an extra push to bring her first literary child into the world, even without a literary agent to act as midwife. (She has since acquired an agent.)
"I've written a lot over the years but I never made a serious effort to get published," she said in an interview in early June. "Even this" — referring to Ten Thousand Lovers — "was not a serious effort. It was a miracle that it got published."
A love story set primarily in Israel in the 1970s, Ten Thousand Lovers weaves a beguiling spell that is equal parts darkness and light. The story centers around the relationship between Lily, the first-person narrator, and Ami, a charming Israeli military official whom she meets while hitchhiking. But from the first sentence — "A long time ago, when I was twenty, I had a relationship with a man who was an interrogator" — the story is filled with dark undercurrents of the sort that are typical in modern Israeli fiction.
The idea for the book emerged from a conversation she once had with a stranger who admitted being a professional interrogator. "It never occurred to me that someone could have that job. I was stunned when he told me that. I never knew that that could be a job. It opened up a whole new level of Israeli reality for me."
While the focus never deviates from the wonderfully realized characters and their love affair, the subjects of torture and brutality keep recurring. Although Ami repudiates such medieval methods and never uses them with the Palestinian detainees that he interrogates, torture is still an integral part of his work environment. He tries but he can't change things. Not even after he successfully switches careers can he escape the consequences of his former connection to that inhumane milieu.
Ravel's minimalistic treatment of this ugly subject parallels the way Israeli author Aharon Appelfeld's handles the horrors of the Holocaust: by secondary allusion, never by direct revelation. If she is writing about a dystopia — a society that elevates some of its most base and evil impulses into national institutions — she's more subtle about it than other practitioners of the genre like George Orwell, Anthony Burgess or Jacobo Timerman. Still, her prose rings with such versimilitude that even Israel's strongest defenders will be disturbed by its details.
Because art dictates that Lily and Ami must be denied a happy ending, suspense and foreboding cloud the novel and grow thicker by the page. Even as the couple marry and prepare to have a child, the reader knows that something bad is coming. Ravel says she put off writing the ending as long as she could: it's clear that she cares deeply for her characters and for Israel. "There's so much pain involved in being attached to Israel and watching all the wars and all the tragedy, and I think that it all came out at the end," she said. "When I wrote the ending I just couldn't stop crying."
She acknowledges that she modeled the character Lily largely upon herself: both were born on kibbutzim in Israel, both came to Canada at a young age with their parents, and both returned to Israel to attend university. ("I went to Israel to study English literature and I went to McGill University [in Montreal] to study Jewish studies," Ravel said. "I did it all upside-down.")
Similarly, both she and the fictional Lily have teenaged daughters, and both share a love for the Hebrew language and the Biblical heritage of the Jewish people. Interspersed between the novel's dramatic scenes are some fascinating discussions of Hebrew words and grammar, and some of the Arabic influences that have infiltrated the language since its modern revival. "It's very interesting to see how many hundreds of words, not just slang, come into the Hebrew language from Arabic. To me, that's a hopeful sign: it shows that the two cultures are really connected."
The unwavering credibility and realistic tone of Lily's narrative voice beg the question: how much of the story is autobiographical? Ravel doesn't duck the question. Much of the prose came from the journals that she's kept over many years, she acknowledged, adding that she modeled Ami in part after her former husband, an Israeli, and used their real-life wedding as the basis for its novelistic counterpart. "But I didn't marry an interrogator. I married a pianist who was never in the army. He never even did basic training."
A strong involvement with politics is another quality the author shares with Lily, but that's only natural, since both are Israeli by temperament, if not by citizenship. "Canadians might find it strange that a couple who are going out and who are romantically involved keep discussing politics. But in Israel that's one of the topics people would discuss immediately, to see if they're near each other on the political spectrum. It's so much a part of life there."
It's clear from just a short conversation with Ravel, as it is from reading Ten Thousand Lovers, precisely where her politics lie. The amazing thing is, even if you are some distance away along the spectrum, it doesn't seem to matter. Like a self-enclosed world, her book is a thing of integrity, true to itself and so deeply felt that it somehow manages to bridge the gap. ♦
© 2003