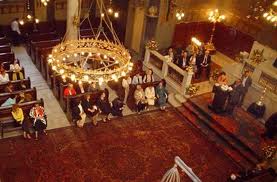 For 21 years, Selim Sassoon, an Egyptian Jew, worked as an executive accountant for the Shell Oil company in Cairo. Then in 1956, with the Suez crisis looming, Sassoon became convinced that there was no future for Jews in Egypt and took his family to Canada, part of a modern exodus and expulsion that saw the dissolution of the 80,000-strong Jewish community of Egypt. He now lives in Toronto (1994).
This summer the 85-year-old grandfather was carried back down unto Egypt like Jacob in his old age, seeing again the Sphinx and the Gizan pyramids under which his family used to picnic, and many other familiar sights.
"It was wonderful," he says of the four-week trip he took with his daughter, Josette Sassoon. "I don't regret a moment of it."
"My daughter was eight when we left Cairo, and we went back after 38 years," he says. "Everything was changed completely. For example, we used to take the streetcar half an hour to get to the zoo. It used to be all by itself, practically in the country, and now it's surrounded by the buildings of Cairo."
While the Sassoons' sojourn in Egypt was one of personal reminiscence, it also took in most of the sites relevant to the long history of the Jews in Cairo. Perhaps foremost among these was Ben Ezra Synagogue, the 11th-century edifice that is surrounded by some 29 mosques and 20 churches in an extremely old part of the city. Its genizah, a storage space behind a wall, was rediscovered in the last century, yielding many old Jewish manuscript treasures that had otherwise been lost. "Groping our way through bumpy, cobbled, narrow streets surrounded by stone constructions, I really felt that we were walking back in time and history," Josette said.
Another synagogue, Shaar Ha-Shamayim, was surrounded by security guards who at first would not let the duo enter the premises. After permission was attained several days later, the Sassoons entered the building where Selim was married to his late wife, Dora, more than 50 years ago, and where Josette's naming and her brother's circumcision had occurred.
Inside, they were astonished by the grandeur of the building, which was replete with stained glass windows and imported Italian marble floors, columns and stairways. "It still seemed as beautiful and majestic as I remembered it as a little girl," Josette said. However, Selim was shocked that a former chandelier, which "held more than a thousand bulbs," had disappeared, evidently because the congregation had to sell it to raise funds in order to maintain the synagogue.
"The ark is interesting, it's like a little room," said Josette. "It still has 32 Torahs inside. The Torahs came from Iraq a long, long time ago."
The Sassoons also visited their former home and the English immersion school where Josette and her brother once studied. As well, they took a cruise up the Nile to Luxor, where Selim pointed out the balcony of the hotel room where he and his wife had honeymooned.
"For my father, this was a trip down memory lane," said Josette. "I could have gone on a tour any time I wanted, but to have gone with my Dad was wonderful. I couldn't have found my house or any of the other things without him."
Selim, who was awarded a Governor General's award last year on the 125th anniversary of Canada for his community volunteerism, said that his family is not related to the wealthy Sassoon dynasty of the 19th century, which has been called the Rothschilds of the East. His parents came from the Sephardi communities of Iraq and Iran.
"There are very many families with the name Sassoon," he said. "It's a very common name, like Smith. There are Sassoons in Hong Kong, China, and especially India." ♦
© 1994