From the Canadian Jewish News, June 29, 2000.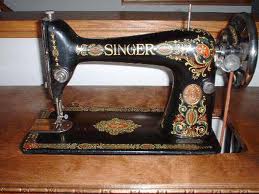 Ruth Stein, a spry, 91-year-old grandmother, sewed dresses on Spadina Avenue and can now see herself featured in the film Needle 'n Tread, which the Toronto Jewish Film Society showed recently.
Born in Sachavola, Lithuania (now part of Poland), Stein had no idea that one day she would represent Spadina as it used to be. The five-minute documentary preceded the society's main attraction, Uncle Moses, featuring Maurice Schwartz.
Stein, who went to work on Spadina in 1926, still gets a pension of $9.95 a month from the Union of Needle Trades, Industrial and Textile Workers, and still owns a Singer sewing machine circa 1920.
With the aid of a walker, she goes up and down Eglinton Avenue from her retirement home in Pine Villa and comments perceptively on what she sees. But Stein can't recall the name of her first employers.
She expressed pleasure at seeing her image in the documentary made by David Stein, her 30-year-old filmmaker grandson, who got the idea while working on an as-yet unfinished feature-length film, Neshoma, about the revival of Jewish culture everywhere.
In Needle 'n Tread, there are archival shots of Spadina Avenue sweatshops of the kind Stein worked in, but the film also has modern day scenes of her working in her beloved garden at her home on Joicey Boulevard, where she lived until congestive heart failure forced her to seek a retirement home in March this year.
She is also seen doing aerobic exercises at the Bathurst Jewish Centre, where she went by bus every day until she broke a knee two years ago.
The film opens with Adrienne Cooper of New York singing My Resting Place while the music of the Flying Bulgar Klezmer band and their version of the Three Seamstresses fills the soundtrack.
Stein's activities and work are contrasted with those of an Asiatic woman who now does the kind of work on Spadina Avenue that Stein did so long ago.
The documentary, sponsored by Friends of Yiddish among others, has been shown on Bravo TV and at the Toronto Jewish Film Festival last year.
David said that in preparing for Neshoma, he has so much good Toronto footage of the Ashkenaz parade and of the show Ghetto Tango that he could make four or five films.
"I'm still wrestling with how Neshoma will turn out, but it will be completed," he said.
Three years ago, David and his younger brother Eric, 27, leader of the klezmer band Beyond the Pale, visited and photographed his grandmother's home in Sachavola, and some of the footage will be in Neshoma.
They also did filming at Auschwitz and in their grandfather's home town. (Stein's husband, a cabinet maker, died in 1991.)
David describes Neshoma as a labour of love that he started with a grant of $4,000 from UJA, supplemented by $15,000 raised privately. It will feature some Toronto Holocaust survivors. Karen Shopsowitz is the co-producer. ♦
© 2012 by the family of the late Ben Rose. 
Copyright Canadian Jewish News Jun 29, 2000