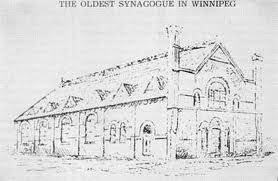 Reuven Lexier, a Toronto orthopaedic surgeon, recently published this handsome 150-page volume that documents his family's experience in Canada from the moment his great-great-grandparents, Shimon and Chana Lechtzier, settled in Winnipeg with their four sons and two daughters in 1882.
Lexier spent about 10 years gathering the 196 photographs, archival documents, newspaper clippings and memorabilia that are reproduced inside From Kamenets-Podolsk to Winnipeg: The History of the Lechtziers. These items lend enormous visual appeal to the work, and help give it the flavor of a social history as well as of a family history.
Lexier researched and wrote the text in only two years; in trademark physician's style, he dictated it into a tape recorder for a typist to transcribe. Still, he managed to provide, besides the detailed family charts, a good historical context of the times in which his forebears lived. He describes the Russian pogroms that propelled family members to Canada; and he elaborates on various aspects of life in Canada — the building of the railway, the whiskey trade, the rise of organized athletics — that affected their lives.
"The very first night that my great-great-grandfather came in 1882, he and his sons were approached to unload rafts of lumber that had been floating down the Winnipeg River, and then they worked for the CPR," Lexier said.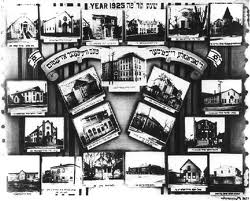 "The CPR gave them special dispensation not to work on Shabbos and Yomtov. They spent the first Rosh Hashana and Yom Kippur on the border of Manitoba and Saskatchewan, where they had been laying track for the CPR. They spent $100 to get a sefer Torah and a shofar."
As the author explains, the name Lechtzier comes from two Yiddish words, lecht (candle) and tzier (puller); the name denotes a "candle maker."
One relative, Rhoda Lechtzier, was the first Jewish girl born in Western Canada to survive beyond infancy. After four other babies died from malnutrition and exposure, Shimon Lechtzier established the first Jewish cemetery in the Winnipeg area, B'nai Israel, in 1882.
Other notable relatives include Sid Halter, who was the first commissioner of the Canadian Football League; George Druxman, who played for the Winnipeg Bluebombers for 10 years and helped the team win five Grey Cups; Sam Lexier, the first Jew to attain the post of Worshipful Master of a Masonic Lodge (in Regina in the 1930s); and brothers Sam and Saul Lexier, who introduced modern recreational bowling to Canada (in Vancouver in 1927).
Lexier says he took on the project in order to demonstrate the unity of a family that has become increasingly farflung; contemporary branches may be found in Ontario and every western province, half a dozen American states and London, England.
"The relatives in Florida, Winnipeg and Yorktown, they don't know each other," he said. "I wanted to unify everybody." He is happy to report that publication of the book has sparked plans for a family reunion, due to take place in Winnipeg next summer.
Lexier's first advice for family historians intent on publishing their research? "One of the main things you should do before undertaking a project like this is to approach your relatives and ask for financial assistance," he said. "I'm not joking. It can be quite costly."
Lexier hired a professional editor-designer and paid more than $18,000 in total to produce 500 copies of the book; nearly one-third was spent on acquiring photographs, archival documents and reproduction rights. He is attempting to recoup his investment by selling copies for $39.95 apiece. ♦
© 1997