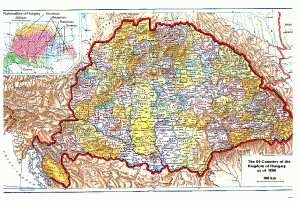 Dr. Gabriel Bar-Shaked, an expert on Hungarian Jewry for Yad Vashem in Jerusalem, is convinced that a massive trove of documents on the Jews of the Austro-Hungarian Empire lies hidden in a state archives in Budapest, and he's determined to gain access to it.
So vast is the collection, Dr. Bar-Shaked asserts, that it would allow researchers to trace back to 1850 the family trees of all 800,000 or so Jews who were living in Habsburg lands before the Holocaust. However, because the papers throw light on Hungary's Nazi period, during which two out of three Jews perished, Hungarian officials supposedly want to keep them buried.
Thus, according to Dr. Bar-Shaked and others, the Hungarian government denies the very existence of the collection, even though a section of about 200,000 pages was released by the Hungarian army for a conference in 1986. "In the Home Office in Budapest, they have a whole archives devoted to the Jewish question, but they have been denying it until now," the Hungarian-born professor said during a recent interview. "The head of the Home Office told me that if I can find it I can get it, but that he himself doesn't know where it is."
During the German occupation, Hungary's collaborationist government established an archives, the Institute of the Jewish Question, to which all Jews of the realm were obliged to submit official documents showing that their families had lived there for at least three generations."If you couldn't prove it, you were sent back to the country of your so-called 'original nativity' — Poland, for example, or Russia or Romania. That's why the Jews had to collect their personal papers and file them with the government," Dr. Bar-Shaked said.
His father, a professor of history in post-war Hungary, sought out his family's papers some 20 years ago, only to be told the government no longer had them, he said. He first realized that the collection might still exist about a decade ago, after a fellow researcher showed him some papers he had attained from a Budapest archives with the help of some former communist friends.
"I had never seen such documents before. One was a certificate from the schools about his occupation, another was about the paying of taxes, and there were certificates of birth and marriage — all of the items his family had sent to the Home Office to prove that they had Hungarian citizenship. The archivist evidently found these documents very quickly with the help of a computer. My friend was able to get copies without any trouble in only 10 minutes."
The researcher later requested more documents from the Home Office but was turned down and told he had received the earlier documents in error, Dr. Bar-Shaked related. "This," he said, "is proof that in Hungary they have everything." In 1989, on a trip to Budapest with French anti-Nazi activist Serge Klarsfeld, he managed to obtain a few more tantalizing tidbits from the collection, but no more.
Ironically, he has had considerably less difficulty getting details on how the Jews died. Using Nazi lists released by Hungary's post-communist regime, he has published several volumes of names — for example, Jews deported from Hajdu County in 1944, Jews sent to labour battalions, and Jewish women sent to Stutthof labour camp.
Dr. Bar-Shaked said that he hopes to copy the hidden Jewish documents and to catalogue them by family name in a computer data-base. Since two-centuries-old lists of all Habsburg citizens, including Jews, are presently available in Hungarian archives, Jewish researchers could use this material, together with the hidden Holocaust-era documents, to chart their family trees right back to the era of Empress Maria Theresa, he said.
If he is to achieve his goal of documenting the families of all the Jews of Greater Hungary, he knows that he must do it without major assistance from Yad Vashem, which is focused solely on the Holocaust period. His so-called Magna Hungaria Project might eventually involve establishing a dedicated institution somewhere in Europe, perhaps in Budapest, he said.
Mark Shraberman, an acquisitions official at Yad Vashem, is also involved with the Magna Hungaria Project. He is a former archivist in the State Central Historical Archives in Lviv, Ukraine (formerly Lvov or Lemberg, Poland), which holds material that "gives an extremely rich, full picture of everyday life of Galician Jewry," he said. Considered politically sensitive, Lviv's Jewish collection was reportedly closed to researchers about a decade ago.
"All of these archives are political archives because of the Holocaust and because of communism," said Dr. Bar-Shaked. "In many cases, they are very hard to open up. But I'm sure that we are going to do it." ♦
© 1997