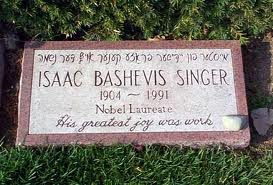 In Love and Exile, Isaac Bashevis Singer's revealing autobiographical trilogy, he describes an early story, "In the World of Chaos," that was never published. Its hero "was nothing less than a corpse who didn't know that he was dead," Singer recounted. "He wandered across Poland, attended fairs, called on rabbis, even allowed himself to be proposed for marriage." The story ends when the protagonist seeks out a cabalist rabbi to explain his life's mystery to him. "Unbutton your gaberdine and you'll see that you're wearing shrouds," the rabbi tells him.
Singer admitted that he identified with this strange hero because "I lived yet was ashamed to live, ashamed to eat and ashamed to go to the outhouse. I longed for sex and I was ashamed of my passions . . . . Man is the only creature who is ashamed to be what he is. The whole human culture is one mighty effort to cover and embellish itself; one huge and complex fig leaf."
For a somewhat different reason, Singer's "dead man walking" seems an apt image for the writer himself as we mark the 100th anniversary of his birth this summer. Why is it not surprising that this amazingly prolific writer, who habitually dipped his pen in the inkpot of the supernatural, still seems to be churning out new stories and novels from beyond the grave? For all we know, he's taking an impish delight in still appearing as such a powerful force in the world.
Since his death at age 87 in 1991, Singer's production has hardly seemed to flag. That year brought a first English translation of Scum, a novel evoking Warsaw's backstreets from early in the century. The first English edition of The Certificate appeared in 1992 and Meshugah, a newly discovered novel about Holocaust survivors in New York, made its English debut in 1994.
As a prized contributor to the New York-based Yiddish Forverts for decades, Singer was generally too busy creating new material to worry about the ultimate disposition of the various novels that the Forverts serialized in Yiddish. He was often content to let them languish in obscurity.
Shadows On The Hudson, another novel mined from the Forverts' back pages, was published in 1998. It was the author's fourth major work to be published posthumously and the first of his novels set on American soil; it was widely reviewed and may even have appeared on some bestseller lists. Some critics, however, astutely observed that its bleak vision and unsavoury characters may have been a large part of the reason it had lain undisturbed for so long.
For many readers, the Nobel laureate's masterful collection of autobiographical stories In My Father's Court (1956) ranks among the best work of his long career, so many of us were astonished and delighted when a new vintage collection on the same theme, More Stories from My Father's Court, miraculously appeared in 2000. Whatever reasons Singer had for leaving these pieces untranslated, they had little to do with their quality, which ranges from good to superb.
Let us recall that the author grew up in a rabbinic household on Warsaw's Krochmalna Street before WWI, and that troubled Jews in the neighbourhood streamed to his father's court, or beth din, eager for advice; the future writer, then a boy, was usually lurking in the woodwork, all ears and imagination.
Singer originally published the pieces under his journalistic pseudonym, Isaac Warshawsky. He regarded them as a literary experiment that combined the memoir and the belle-lettre. The first collection, In My Father's Court, greatly charmed the critics when it was first published in English in 1966.
For Singer fans, the appearance of this second collection so belatedly and unexpectedly can only be regarded as a delightful surprise.
Perhaps it's my imagination, but some of these stories seem to focus on people with darker secrets than in the first collection. These Warsavian Jews are possessed by dybbuks, cast spells on one another, and live brazenly in sin: one man calls his wife a whore but doesn't seem to mind that she's having an affair right under his nose. Some are portrayed as living in ignorance and even spiritual squalour, as if they know that they are the final generation of a doomed and dying civilization.
Even several rabbis who visit the author's father seem to have lost their lofty Jewish ideals. They include a rabbi and his family who, seeking a viable livelihood, abandon their faith and go to America; and another rabbi of small accomplishments but a huge ego, whose arrogance causes him to feel forever slighted. In one case, however, it's the rebbetzin whose faith to her pious husband comes under question; they are seeking a divorce because she opposes his wish to migrate to the land of Israel.
These are simple sketches, brilliantly rendered, that cumulatively result in the presentation of a rich and complex moral universe, revolving around the child and his world. Although perhaps the second collection doesn't sparkle with quite the same luster as the first, it is a worthy and compelling successor.
In The Hidden Isaac Bashevis Singer, a 2001 anthology of essays, literary scholar Nathan Cohen observed that despite the profusion of works by Singer already extant in many languages, "many others still remain hidden in the yellowing pages of Forverts and other Yiddish newspapers and periodicals — enough to provide years of work for translators, publishers, and researchers alike."
As an example, Cohen described one important early autobiographical novel that had previously received scant, if any, critical attention. Varshe 1914-1918 was partially serialized in a Polish Zionist newspaper in 1935, just as its author was readying his first novel, Satan in Goray, for publication in Yiddish. He left for America soon afterwards and apparently abandoned the autobiographical work, which described his own youthful experiences in Warsaw.
At least one other Singer novel, Yarme un Keyle, still lies undisturbed since its original appearance in instalments in the Forverts of half a century ago. Joseph Sherman, who translated a chapter for The Hidden Isaac Bashevis Singer, noted that it was a radical departure for Singer; he described it as a gangster novel peopled by forgers, blackmailers, gangsters, seducers, white slavers and murderers, set in Warsaw before WWI.
Last month the Forward, the Yiddish paper's English-language sister, published an eight-page special section on Singer, and included "Two," a newly-translated tale of depraved love. This summer, the Library of America, a U.S. publishing house, is also commemorating the centenary of Singer's birth with the release of a fancy three-volume "authoritative" boxed set of his stories, edited by Ilan Stavans, that includes several stories never seen before in English.
As pundits and critics shine a fresh spotlight this season on the extraordinary career and literary legacy of the world's most famous Yiddish writer, it is remarkable to note the steady stream of high-quality, newly-translated works that have appeared under his monicker since his demise. I'm positive that many established writers would be thrilled to maintain that level of production while they are still alive, never mind when they're dead. ♦
© 2004