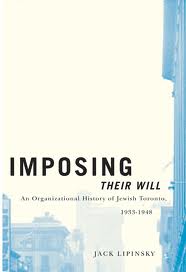 In Imposing Their Will: An Organizational History of Jewish Toronto, 1933-1948 (McGill-Queens), Toronto writer Jack Lipinsky presents an original and illuminating study of Toronto's Jewish community and convincingly demonstrates that the community underwent a crucial maturation in the 15-year period under discussion.
Similarly, in The Defining Decade: Identity, Politics, and The Canadian Jewish Community in the 1960s (University of Toronto Press), Toronto academic Harold Troper, who authored and co-authored numerous previous works including None Is Too Many, shows that the colourful Sixties, now half a century distant, was a pivotal and transformative decade for Canadian Jews, a time when they found their place within wider Canadian society. Both books are welcome additions to our still understocked shelf of works addressing the history of the Jews in Canada and more specifically, Toronto.
Not since Stephen A. Speisman's important 1979 book The Jews of Toronto: A History to 1937, have we seen a work of scholarship on Toronto Jews as encompassing and insightful as Lipinsky's. Like Speisman, Lipinsky conducted much trailblazing archival research and interviewed previously neglected communal figures such as Dr. Martin Cohn, who spent his later years in Chicago. Also like Speisman, Lipinsky wrote the work initially as a PhD thesis — in his case rescuing it from an old computer disk and recalling it back to life after 18 years.
The thesis of Imposing Their Will is that Toronto's Jewish community developed through a series of clashes that pitted the old-fashioned "downtowner" Jews — with their shtetl mentality and religious notions about tzedakah — against a younger, more assimilated generation of "uptowners" with their professional ideas about how social work and charities should be managed to maximize efficiencies.
Only by "imposing their will" in a somewhat less than democratic fashion did the uptowners ultimately win this tug of war, bringing a semblance of organizational unity to the community. The book provides compelling backstories to the alphabet soup of Jewish social agencies and charities that often worked at cross-purposes to each other in the community's early days.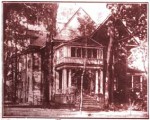 The Jewish Children's Home was a communal orphanage that was established on Simcoe Street about 1910 and moved to a large house on Annette Street in the West Toronto Junction in 1922. The Maternal Aid Society ran the Home with funding from the Federation of Jewish Philanthropies (FJP), the Children's Aid Society and its own fund-raising campaigns. Dozens of dedicated volunteers faithfully visited and mentored the children.
But according to the FJP, the Home suffered from a "narrowness of vision " and amateurish methods; also, its fund-raising campaign, in 1933, clashed with the FJP's own centralized campaign. Martin Cohn, whom Lipinsky fortuitously interviewed in 1985, was then the FJP's executive director. A social-work professional and thus an uptowner, Cohn wrestled control of the Home from the downtowners and radically transformed how the community took care of its orphans — placing them in private homes rather than collectively under one institutional roof — in keeping with best professional practices.
Cohn achieved the takeover by establishing a Personnel Committee that "marked a watershed in Toronto Jewish history," Lipinsky writes. "It signified the first acceptance of 'scientific charity' and its attendant beliefs in communal organization based on the theories of social work and communal planning."
Students of local Jewish history will appreciate such revealing glimpses into our communal institutions and the bitter battles that occurred behind the scenes. Although this is a bureaucratic history, it is one in which knives are drawn frequently.
The Toronto Jewish Immigrant Aid Society was the sole surviving local agency of the first Canadian Jewish Congress, which expired in organizational disarray soon after its premature birth in 1919. Regional JIAS offices were operating effectively in several cities across the country, but in Toronto the local JIAS was ineffective and the community turned instead to steamship ticket agents and other private influence peddlers for help on immigration-related issues.
Lipinsky has magnificently reconstructed this "lost" institutional history, which involved a protracted power struggle between JIAS's Toronto and Montreal offices. Ultimately, Montreal forced Toronto to "shed its narrow parochial vision" and revitalize itself.
He likewise turns his magnifying glass upon various other communal institutions, including the Toronto Hebrew Free School, the Canadian Jewish Congress and the United Jewish Welfare Fund (UJWF). Perhaps the period's most significant watershed moment occurred when the UJWF joined the city-wide United Community Chest fund-raising campaign of 1943, thus accepting a role alongside the city's churches "as part of the larger civic society. By accepting the invitation, Toronto Jewry indicated that its interests were expanding beyond the parochialism of the pre-war years."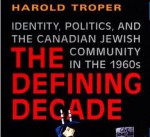 Lipinsky thus pinpoints the beginning of the major transformations that brought Canada's Jews into the mainstream of Canadian society, a process that Hesh Troper (who was one of Lipinsky's mentors) describes so well in The Defining Decade.
The Defining Decade is a thoroughly researched, well-written account of the Canadian Jewish community's emergence from the shadows into daylight, propelled in part through a new self-confidence gained after the Six Day War. The author's obvious scholarship is embellished with incisive observations, telling statistics, crisp anecdotes and occasional splashes of humour. Both these books should appeal to those readers with a hearty interest in Canadian and/or Toronto Jewish history. ♦
© 2012