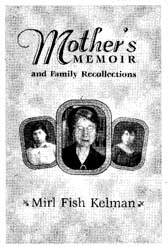 As a tribute to the memory of Rebbitzen Mirl Fish Kelman, her children recently published a book, Mother's Memoir and Family Recollections, in which they describe her influence on the Toronto Jewish community and tell how she overcame adversity and raised a family of communal leaders.
The life of the matriarch of the Kelman family reflects the history of the first generation of Canadians who fled from persecution and struggled to establish a loving family and a traditional home. It is also the story of a woman who reached out to help friends and strangers in need.
According to Rabbi Joseph Kelman, (who in 2002 was) rabbi emeritus of Beth Emeth Bais Yehuda Synagogue and one of the children of Rabbi Zvi Yehuda and Mirl Fish Kelman, the book was published because "we thought that it was important for our children and grandchildren and for generations to come to know what an outstanding woman and role model our mother was."
The book, written as a joint venture by Mirl Kelman's four surviving children, records their memories of their mother and their life in Toronto. These recollections, Rabbi Kelman said, paint a picture of their mother as "a baalat chesed with exceedingly fine midos — a woman who was an extraordinarily selfless person and engaged constantly in the pursuit of noble goals."
The book is based in part on Mirl Kelman's diary, which was written in Yiddish and translated into English. It records the first 18 years of her life in Galicia, her family's travels and her life in Vienna up to her marriage.
In the preface, her children write that they regret that she recorded only her early years. "But even from her short Yiddish memoir, we get a clear picture of her eloquence and abilities."
Mirl Fish was born in 1900 in Linsk, Galicia, when it was part of the Austrian Empire. After the outbreak of the war in 1914, the country was overrun by the Russians. The Fish family fled the Cossacks and finally settled in Vienna.
Rabbi Zvi Yehuda Kelman was born in 1896 in Wishnovchik, Galicia. His family was also forced to join the exodus and also settled in Vienna. In 1918, Mirl married Rabbi Zvi Kelman in Vienna in an arranged marriage.
In 1928, he came to Canada, where he taught and served as rabbi for several congregations. In 1930, he brought his wife and five children — Abraham, Wolfe, Celia (Silber), Joseph and Tobie (Silverman) — to Toronto. A sixth child, Claire (Goldstein), was born in Toronto.
In their home at 408 Markham Street, the rebbitzen became an activist, an inspiration and a model for others.
When her husband died in 1936, she continued, despite hardship, to open her home and heart to young students, soldiers and the needy.
She became a surrogate mother for many boys who had been interned in Canada and were studying at a yeshiva across the street.
In addition to the story of the rebbitzen's life, the 94-page book also contains the Kelman family tree, letters and other documents, photographs, and tributes by community leaders and journalists.
Also included is an account of the Kelman family reunion in 1999, which took place in Stamford, Conn., and was attended by 185 descendants.
Despite the hardships that their mother faced, her children recall in the book that she played a vital role in the development of the Toronto Jewish community. She organized and served as the first president of Mizrachi Women in the city and was a founder of the Shomer Shabbos Organization. She regularly organized oneg Shabbat gatherings.
"Our home became an institution," Rabbi Kelman said.
Mirl Kelman was determined to bring the Shabbat message to the community. She spearheaded a campaign that included marches to Kensington Market and distributed leaflets and published advertisements in the local Jewish paper explaining the sanctity and central role of Shabbat.
One result of her campaign was that some bakeries and grocery stores began to close on Saturday.
Mirl Kelman died in 1983 at the age of 83.
All of her children are involved in Jewish communal service, and this is continuing into the next generation.
"I believe that her 20 grandchildren, 79 great-grandchildren and 22 great-great-grandchildren are influenced by my mother," Rabbi Kelman said. "Her extraordinary traits left their mark on all of us, for which we are indeed most grateful."
The book was published with the help of the Reporter, the weekly Jewish newspaper of Binghamton, N.Y. ♦
This story appeared originally in the Canadian Jewish News and appears here courtesy of the author. © 2002 by Cynthia Gasner.