From the Canadian Jewish News, Spring 2015
In a series of articles in the Canadian Jewish News about four decades ago, the late CJN columnist J. B. Salsberg reminisced with great affection about the "Apter Shteeble" in downtown Toronto that he had frequented in his youth during the First World War.
The Apter Society — one of dozens of Jewish landsmanschaft organizations, mutual benefit associations and fraternal orders that would spring up in Toronto — had established itself in a modest old frame cottage on Centre Avenue decorated with some hand-me-down tables and chairs, a pot-bellied stove, and a wooden cupboard that served as the ark for the Torah.
"Most of the newcomers came from Poland and a lot of them found that the war shattered their plans to bring their families to the new land," Salsberg wrote. "Others, who were planning to return to the 'old country,' were, of course, unable to do so. As a result, there were a lot of lonely men in our midst. The shteeble of one's own townsfolk and the fraternal or war-relief society of landsleit helped to fill many voids. It provided a warm, hospitable haven for the lonely and the unacclimatized immigrants in the strange, new land."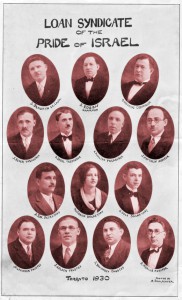 Besides fellowship, the landsmanschaft and mutual benefit societies typically helped newly-arrived immigrants with immediate needs such as food, shelter and employment. They also met longer-term needs by providing interest-free loans, medical coverage, synagogue affiliation, assistance for widows and orphans, and cemetery privileges.
Today, one of the best places to learn about these organizations is the Ontario Jewish Archives Blankenstein Family Heritage Centre, where a multitude of minute books, records and jubilee souvenir booklets recall their storied pasts. Commonly in these books, the ancestral shtetlach are recalled with an overlay of nostalgic sweetness despite the hunger, poverty, persecutions and other bitter happenings often associated with these places.
Many societies extended helping hands not only locally but also to relatives and brethren left behind in the shtetl who may have been in dire need of rescue. Nachman Shemen, who wrote a history of the Chenstochover Aid Society for its 50th anniversary booklet in 1964, noted that it was founded by people who wanted to do "both relief work for overseas and mutual assistance here on a fraternal basis."
Established with similar aims, the Beizetchiner, Chmielnicker, Driltzer, Ivansker, Kieltzer, Lagover, Linitzer, Lodzer, Mozirer, Ostrovtzer, Ovruch-Voliner, Ozerover, Radomer, Stopnitzer, Warszawer and Zagliember societies were among those that typically focused on helping their landsleit (fellow townsfolk) from a specific town or district.
Geographically speaking, some organizations took a much wider mandate. The First Roumanian Hebrew Congregation Adath Israel, for example, assisted all immigrants from Romania, while the highly popular Pride of Israel Sick Benefit Society served everyone in the community, no matter where they originated.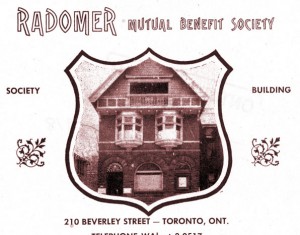 An abundance of souvenir booklets and other materials representing Kielce, Radom, Lagov, Ostrowiec, Opatow (Apt), Driltz (Ilza), Staszow and other central Polish shtetlach attest to a remarkable phenomenon: from the early 1900s onwards, Jews from the Kielce-Radom region and vicinity poured into Toronto in astonishing numbers.
Demographers and historians have yet to adequately explain what special magnet drew so many of them here, except to observe that "one usually followed the other."
By comparison, it's been observed that a much higher preponderance of Russian and Romanian Jews immigrated to Montreal.
Not even the late great Canadian Jewish Congress demographer Louis Rosenberg could explain this phenomenon in his informative study, "Jewish Mutual Benefit & Friendly Societies in Toronto: The First Fifty Years (1896-1945)," also available at the OJA.
Over the last half-century, most of Toronto's landsmanschaft and mutual benefit societies have been gradually winding down or have already folded. Having outlived their original purpose, most of them can see the writing on the wall.
In recent years, a dozen local societies have established endowments with the Jewish Foundation of Greater Toronto, collectively worth nearly $1 million. Thus they are perpetuating their charitable deeds for generations to come. Their memories, too, will live on: many of their histories are illuminated in the Bridge of Hope walkway between the Lipa Green Centre and the Prosserman JCC on north Bathurst Street. ♦
◊ This article was part of a series about Toronto's Jewish institutions, funded by the J. B. & Dora Salsberg Fund at the Jewish Foundation of Greater Toronto in partnership with the Ontario Jewish Archives, Blankenstein Family Heritage Centre.