Birchall Dropped a Cigar Case, Which Was His Undoing — Jardine Talked Too Much — Charles Gibson May be Hanged Because He Wore a Peculiar Tie Pin
From the Toronto Star Weekly, November 1912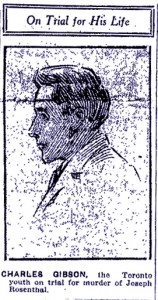 "The mills of the gods grind slowly, but they grind mighty fine."
Charles Gibson, aged 20 years, has been convicted of the murder of Joseph Rosenthal. For one week previous to the crime, a man giving his name as "Smith" had been telephoning Rosenthal. Later Rosenthal was seen in the company of "Smith." The same man was seen in the vicinity of the murder two days before it was committed. Everyone who had had anything to do with "Smith" had noticed a tie pin of a peculiar design which he wore — a pin fashioned to represent a bunch of grapes. The police were looking for "Smith," and, as Reginald Langmaid, watchman at the Hydro-Electric transformer station, had been seen in the company of "Smith," a detective went after Langmaid, who was placed under arrest. The transformer station was searched, and Gibson found hiding in a lavatory. On his tie was a pin fashioned to represent a bunch of grapes. Gibson readily admitted that it was his pin.
Charles Gibson, convicted of murder, after a trial lasting five and one-half days, was "Smith."
The criminal is essentially a man of low mental development. He is abnormal. A genius is in many cases abnormal, but his mental development is high. A criminal is shrewd — cunning is a fitter word; his is the cunning gained from the development of one of nature's strangest laws — self-preservation. The criminal pits his wits, his cunning, his brains, against the arm of the Law; he may succeed, attain riches, even gain a certain amount of respect from his fellowmen, but one day he makes a slip and the Law goes after him, and the Law gets him. The police are continually watching for these slips.
A small tie pin proved to be a very, very important factor in the arrest and conviction of Gibson.
Jardine Talked Too Much
Edward Jardine, another youth, paid the penalty of his crime on the gallows at Goderich a little over a year ago. Jardine murdered a young woman in a particularly brutal manner. His mental development was poor, he was not suspected. The police were without a clue, and were scouring the country for the perpetrator of the fiendish crime. Jardine talked; he talked continually — of the crime — the brutality of it, and all its hideous features. His talk created suspicion, he was watched, later arrested, confessed, and was hanged. Jardine's idea in talking was to divert suspicion from himself, but he talked too much.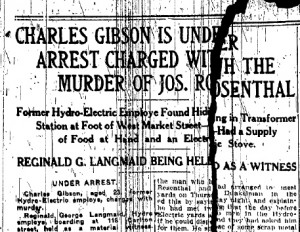 Two men were standing at the Union Depot among the crowd waiting to board the International Limited. A detective was standing on the platform. When the crowd moved these men also moved, in and out, until one of the men, noticing the detective watching him, nudged his companion, and that nudge just meant eleven years in jail for him — costly nudge. He was arrested on suspicion, his description wired broadcast, and a police officer came from Washington and got him. He was a notorious bank robber.
James Murphy, alias Brady, . . . loved good cloths. A store was broken into at Newmarket, clothes stolen. Brady was arrested, convicted and spent nine months making large stones smaller. Three weeks after his release, a jewelry store was rushed, and over a thousand dollars in jewels and money taken. Next door was a tailor shop which was found to have been entered and an expensive suit taken. Brady was located, some plunder found in his possession, and the tailor's suit on his back. This time he got four years. Clothes were his weakness.
A Woman's Rice's Undoing.
If it had not been for a woman, Rice of the Rice Rutledge and Jones trio, would probably never have been hanged. After robbing post-offices, merchants, and others, the three desperadoes went to Chicago, where they were trace by letters from Rice to this woman. They were brought here, and while being driven from the jail in a cab were supplied with revolvers which were thrown into the cab in an old felt hat — presumably by a woman — it was never learned. Rutledge committed suicide by throwing himself over a balustrade, falling three flights, in the jail. Jones died in jail, the result of a bullet wound, and Rice paid his score in the jail courtyard. It was learned by the police that the trio had planned to break up, but before they had carried out their plans the letters to the woman entrapped them. Was the weakness in this case a woman?
"A criminal will give himself away nearly every time, make some little slip which will betray him," said a detective who has spent twenty-five years in assisting to safeguard the public. "A really clever criminal never has anything on him by which he may be identified, no letters, cards, or correspondence of any kind; he will even take the tags out of his clothing so that when he is searched nothing incriminating will be found on him. I had occasion one time to suspect a man out at the Exhibition grounds. I didn't like his actions in a crowd. Calling him aside I asked him his name, where he came from, and his business. He answered all these questions readily but on being asked to have some one identify him, or to show something to substantiate his story, he had nothing to say. He was arrested, sent to Windsor, where he was tried and convicted, serving three years for house-breaking."
The Birchall Murder
Reginald Birchall, an Englishman, decoyed a fellow countryman into a swamp near Woodstock and murdered him. He had interested Benwell in some timber lands and had the young man send to his father in England for a draft. He shot Benwell, intending to forge his name on the receipt for the draft, and get the money. Birchall then carefully cut off every identifying mark on Benwell's clothing, took his ring, watch, and papers, but inadvertently dropped his cigar case. "I was utterly insane when I overlooked the cigar case," he afterwards wrote in his diary.
The finding of the case led to the identification of Benwell, and the arrest and conviction of Birchall.
The list is long of men who have gone to the gallows through some little inadvertence in a well-laid plan of murder — some apparently trifling accident that has developed into a giant of condemnatory circumstance. ♦