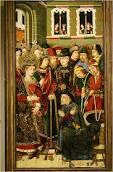 In the town of Trujillo, Spain, home of Francisco Pizarro and other conquistadors, there is a row of shops off the main square of special interest to Jewish travelers.
When I was there about ten years ago, a pharmacist pointed to a door in his shop and invited me downstairs; there, I found an archway with a Hebrew inscription that had been only recently uncovered during renovations.
Similar finds in neighboring shops indicated there had once been a synagogue down below, possibly dating to the time of the expulsion (or shortly thereafter). Later, on a nearby street, a kerchiefed peasant woman pointed out an indentation in a doorpost where a mezuzah had been long imbedded and only recently removed. These were but two of many Judaic discoveries revealed to me during a leisurely motor trip through the picturesque Estramadura province of Spain.
Before that memorable trip, I had sought high and low for a good guidebook to Jewish Spain. To my surprise, I found nothing adequate. I would have been thrilled if Sidney David Markman's book — Jewish Remnants in Spain: Wanderings in a Lost World, a well-written, personalized chronicle of his pursuit of Jewish relics in 25 pre-expulsion towns — had been available then.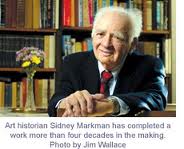 While Markman began his research with an academic posting as a Fulbright scholar in 1961, the research holds up wonderfully. A former professor of art history and archaeology at Duke University — he is now, at age 95, professor emeritus — Markman's interest lay in the relationship between Spanish architecture and the architecture of Central America, a subject on which he had already written two books.
His interest in Judaic Spain was piqued by an encounter with Toledo's famous Synagogue of Santa Maria La Blanca, which was converted into a church bearing the name of the Holy Virgin Mary. "On my first visit to Toledo," he writes, "I almost walked right by, not suspecting that just beyond the high courtyard wall one of the few remaining Jewish houses of worship of medieval Spain stood, almost intact."
Markman's original photographs and floorplans enhance the text, which is enlivened by the flavour of personal adventure and discovery. In the town of Zamora, for example, he finds the remnants of a synagogue in what had become an automotive garage.
"Squeezing by the ancient automobile parked in the door, I entered the garage. There in the irreverent atmosphere of grease and oil, with the bowels of internal combustion engines and tools strewn about in anarchic Spanish disarray, a massive stone wall extended only part way, like a peninsula, across the rooms at the rear. The medieval synagogue retained this wall as its only remaining vestige. I edged my way through the small opening to the left into the space behind what would have been the synagogue wall.
"Three grease-begrimed men were peering over a recently dissected automobile engine, each one doing something to bring the work along. They were huddled about the disemboweled engine in the very spot where centuries ago men huddled around and peered into the unrolled Torah scrolls to read the weekly portion of the Law early every Sabbath morning."
Markman's research focuses on the towns of Astorga, Bembibre, Zamora, Salamanca, Avila, Madrid, Segovia, Toledo, Cordoba, Ecija, Carmona, Alcala de Guadaira, Seville, Andalucia (region), Granada, Malaga, Lucena, Caceres, Plasencia, Bejar, Burgos, Vitoria, Gerona, Barcelona, Lerida, Zaragoza and Gibraltar. He began writing the book in the eighties, finished it in the nineties, and published it in 2003.
Jewish Remnants in Spain is a handy, highly readable softcover compilation of precise description, history and personal anecdote. I recommend it for anyone contemplating a trip to Spain. ♦
© 2007