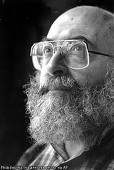 Many astute readers consider Chaim Potok, the New York-born, rabbinically-trained author who died last July, as being categorically unlike most other notable Jewish scribes of his generation because his books open a unique window into the Orthodox Jewish world.
While acclaimed American writers such as Saul Bellow, Bernard Malamud and Philip Roth tended to write about the pressures of assimilation as the children of immigrant Jews adapt to American society, Potok examined the closed religious Jewish world in which he was raised, revealing the various chasms, fissures and shibboleths that permeate that world.
His highly readable first novel, The Chosen, tells the story of a friendship between Danny Saunders and Reuben Malter, two boys from different streams of Judaism in 1940's Brooklyn. The book became a bestseller soon after it appeared in 1967 and remains his best known work. Numerous other novels followed, including The Promise (1969), My Name Is Asher Lev (1972), In the Beginning (1975), The Book of Lights (1981), Davita's Harp (1985), The Gift of Asher Lev (1990), I Am The Clay (1992), as well as several nonfiction titles.
"My books are as Jewish as Joyce's books are Irish," Potok once told an interviewer.
The novels deal with Jewish characters caught up in the conundrums between their own traditions and the accrued knowledge of the wider, secular society of which they are a part.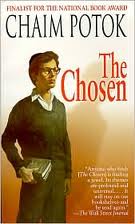 Potok's characters dive into various modern secular philosophical realms — such as Freudian psychoanalysis, Biblical high criticism, Marxist-Leninist theory, and the visual arts establishment — that challenge and contradict their own and their family's traditional Jewish tenets. Dramatic conflict is the inevitable result and, in Potok's expert hands, this always made for gripping and thoughtful reading.
Potok was raised in an Orthodox environment but aligned himself with the Conservative movement. Influenced by writers such as Ernest Hemingway, James Joyce and Evelyn Waugh, he studied English at Yeshiva University, then enrolled at the Conservative-oriented Jewish Theological Seminary. He graduated as a rabbi in 1954, but with no thought of ever practising as a rabbi.
"I went to the seminary to get a good Western oriented Jewish education," he once explained. "I wanted disciplined acquisition of Jewish texts, just as I wanted disciplined acquisition of secular texts. I was going to write about the conflict of these two cultures, and I wanted to get it right."
For Potok, literature presented a means by which remote and closed spheres of humanity could be illuminated.
"Literature presents you with alternative mappings of the human experience. You see that the experiences of other people and other cultures are as rich, coherent, and troubled as your own experiences. They are as beset with suffering as yours. Literature is a kind of legitimate voyeurism through the keyhole of language where you really come to know other people's lives their anguish, their loves, their passions."
Under the auspices of the Latner Jewish Public Library and the Koffler Center, three scholars met recently in an attempt to assess Potok's literary legacy at a public forum. The panel, titled "A Retrospective on the Life and Literary Contribution of Chaim Potok," was chaired by Judy Stoffman, publication editor for The Toronto Star. The healthy audience turnout made it obvious that Potok has left an indelible mark on the reading public as well as on the panel's three contributors.
Pierre Dube, professor of French literature at the University of Waterloo, said that he was fascinated, as a Christian, to read Potok's works "and to learn what it means to be a Jew. To read about tradition, the Torah, explanations of Mishna and Gemorra, and being introduced to gematria — all this was fascinating.
"I never understood why the Jews were called the 'people of the book' until I read The Chosen."
Drawing parallels between the closed Hassidic society and the old-fashioned Mennonite community around Kitchener-Waterloo, Dube noted that while The Chosen was particular in its narrative focus, it had attracted a universal reading audience.
"As a non-Jew, I found a tremendous amount in Chaim Potok that spoke to me as a Christian," he said. "It (The Chosen) is a profoundly Jewish novel — nevertheless it can be applied wider than the life of the Orthodox Jews in Williamsburg, N.Y."
Sara Horowitz began her discussion by recounting her long involvement with the Potok family. She lived within the same community for several years in Philadelphia, she served as a consultant on a board of the Jewish Publication Society at the same did that Potok did, and became an academic advisor and then friend to his daughter.
"I was riveted by it when I first read it as an adolescent," Horowitz said of The Chosen. "It told a good story and it was the first time I had read a piece of American literature that seemed in some way to be about my life. Even though the two main characters were boys, nonetheless it was my life, my struggles, my issues that had wriggled their way into American literature. It made me feel that the stuff of my life was real."
Potok "was a family man as well as a man of letters," Horowitz said as she presented a brief biographical sketch. "He was well-versed — amazing well-versed — in Jewish texts as well as in literature. In many ways I think he was a singularity in the North American literary scene, if not globally."
The Chosen "was something entirely new in American letters. It was the first major book published by a mainstream publisher that portrayed Orthodox Jewish life in the United States from the inside out.
"He broke it down into nuances, different ways of being Orthodox, something the larger American public was not aware of."
According to Horowitz, the American women writers Cynthia Ozick, Allegra Goodman and Pearl Abraham followed in Potok's footsteps by writing about Jewish Orthodox life from the inside. (At least one notable male author, Nathan Englander, has also done so, but in a deeply satirical vein.)
Horowitz said that Potok excelled at writing the "novel of ideas," and that while Jewish reviewers often found those books to be parochial and old-fashioned, they "resonated" with the wider community.
"Potok knew that when you write about something that you know, it becomes universal."
Henry Auster said that Potok's ideas are "compelling and interesting," but castigated the writer for "the plainness of his style" and said that he "teaches rather than delights."
Auster quoted Kafka's familiar dictum to the effect that literature should be an ice-axe that breaks the frozen sea inside of us, and said that Potok's books make us happy but do not live up to that dictum.
"I see him as what Saul Bellow calls an explainer — an explainer and a chronicler of his times. The explanations center around the Jewish experience and the Jewish tradition, in a strictly religious context. What is impressive and bold about him is the way he confronts the religious ideas in which he's been trained with the ideas of the modern world." ♦
© 2003