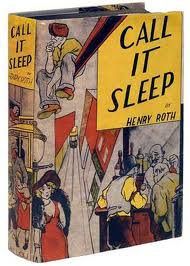 Call It Sleep — what else might one call the hiatus of 60 years that Henry Roth took between publication of his first now-classic novel Call It Sleep (1934) and his next, A Star Shines Over Mt. Morris Park (1994)? Now sleeping the sleep of the eternal, Roth left us with six semi-autobiographical novels that are being published in sequence as part of a sextet called Mercy Of A Rude Stream.
From Bondage, the third instalment, continues to draw us into the life of Ira Stigman and the bohemian world of Manhattan in the 1920s. The narrator describes a love triangle as seen through a glass darkly and from a variety of perspectives: youth, middle age, old age. A difficult yet rewarding read, From Bondage supposedly fictionalizes the lives of New York literary celebrities like Hart Crane, Louise Bogan and Margaret Mead.
* * *
OBIT: HENRY ROTH
The death of Henry Roth in October [1996] at the age of 89 marked the passage of one of the most enigmatic figures in modern Jewish literature.
Roth was best known for Call It Sleep, his astonishingly pure novel that captured the Jewish immigrant experience in America. Told from the point of view of a boy who is the son of immigrant parents to New York, Call It Sleep was published in 1934, when its author was only 28 years old. Although the book was received favourably when first published, it sold only several thousand copies and quickly faded into obscurity.
The book was rediscovered in the 1960s, however, and more than one million copies of a 1964 paperback edition were sold. Many critics, including Irving Howe, have hailed the novel as one of the great American novels of the 20th century. "Call It Sleep is one of the most important, pivotal novels of classic American literature," said Ruby Newman, a professor of literature at York University in Toronto.
According to Newman, Roth, by relating the narrative through the point of view of a child, used a Joycean story-telling technique, even while paying close attention to the cadences and rhythms of the Yiddish language that the boy's parents speak throughout. "He's fused these two techniques together," Newman said, "and he's used techniques of Yiddish literature. He's used the Yiddish language to make his English so lyrical and beautiful."
After publication of Call It Sleep, Roth attempted a second novel, but gave up after writing 75 pages, and did not publish anything again for 60 years. In the interim, he worked at a series of blue-collar jobs, eventually bought a duck and goose farm, and became an ardent communist until the 1967 Arab-Israeli war. The communists supported the Arabs, but Roth preferred to support the Jewish state, and came to view Israel as "a place where the Jewish writer can live his entire life with a sense of belonging — and a chance of maintaining his identity intact."
The renewed success of Call It Sleep allowed Roth to turn once again, with greater determination, to his writing. From 1979 until his death, he worked feverishly, despite crippling arthritis, on a literary project called "Mercy of a Rude Stream" (the title is from a line from Shakespeare). During that time, he produced some 3,500 manuscript pages divided among a series of six related novels, the first of which — A Star Shines over Mt. Morris Park — was issued in 1994. A Diving Rock on the Hudson came out in 1995, and more titles are expected in 1996.
Henry Roth is survived by a sister and two sons, including Jeremy Roth of Toronto. ♦
© 1996