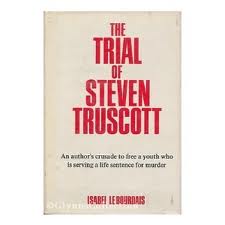 When Isabel LeBourdais first heard that an Ontario court had condemned a 14-year-old boy to death for the rape and murder of a 12-year-old girl, she was appalled that the criminal justice system showed no interest in giving a deeply maladjusted teenager the psychological therapy he so obviously required.
But her opinion quickly changed once she studied the trial transcripts and spoke with the principles involved in the case, in the hope of writing a magazine article or book about it.
"I came to the conclusion that this was not a sick boy who needed treatment but a normal boy who was innocent," she told a newspaper reporter just before her book, The Trial of Steven Truscott, appeared in 1966. "Once I had made that discovery, I decided that I could never drop it until I had had the injustice redressed."
LeBourdais, who died in Toronto on March 14, 2003, at the age of 93, was "extremely strong-minded," recalled her sister, Frances Rocksborough-Smith. "She had a strong sense of justice: that was what she got from father. If she felt there was an injustice, she couldn't rest."
Published in an era when belief in the infallibility of the justice system was widespread, The Trial of Steven Truscott electrified the Canadian public with its shocking but credible assertion that the courts had made a terrible mistake and had cavalierly sentenced an innocent person to be hanged.
LeBourdais convincingly demonstrated that two days after the murder of Lynn Harper in Clinton, Ont., in 1959, the forensic pathologist had erred in restricting the time of death to a narrow window that included the only half-hour period in which Truscott could possibly have committed the crime. She also asserted that the police had tunnel vision and stopped their investigation after nabbing Truscott as a suspect, and that the judge gave a very biased charge to the jury.
An overnight bestseller, the book made front-page headlines across the country, stirred debate in Parliament, and prompted the Liberal government of Lester Pearson to ask the Supreme Court of Canada to review Truscott's conviction. The move "was received most favourably" by all Canadians, said former prime minister John Diefenbaker, then leader of the Conservative opposition.
In reviewing the case, the Supreme Court heard new evidence from witnesses for the first time in its history, and ultimately upheld Truscott's guilty verdict; his death sentence, however, had by then been commuted to a jail sentence. (Paroled in 1969, he has been living in southern Ontario under a pseudonym ever since, and has consistently maintained that he last saw Harper from a distance, as she was getting into a gray car.)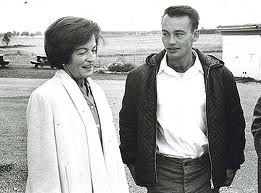 Born in Toronto in 1909, Isabel Erichsen Brown grew up in Rosedale in a home with her parents, an older brother, two younger sisters, four grandparents and an abundance of talent. Her father was a barrister known for sticking up for the underdog, her mother a prominent socialite involved with the art gallery and symphony, her grandfather an oriental languages scholar at the University of Toronto. A sister, Gwethalyn, would eventually achieve renown as a winner of two Governor General's awards for her novels Swiss Sonata (1938) and Earth and High Heaven (1944), which she wrote under the pen-name Gwethalyn Graham.
Isabel was educated at Havergal College, a boarding school for girls, and went to the University of Toronto, but eloped about 1930 after her first year; the brief marriage produced a daughter and son. It was as a single mother that she volunteered as a canvasser for the CCF and began her career as a freelance writer for Maclean's, Liberty and other magazines. Her short story, "And Mercy Mild," which appeared in Canadian Forum in the late '30s, was based on a true case about a mother worried that her son was to receive 20 lashes as a convicted thief; partly because of LeBordais's protests, reportedly, the real boy was not lashed.
In 1942 she married writer D. M. (Donat Marc) LeBordais, with whom she produced a son and daughter. Twenty-two years her senior, he penned eight books about Canada's north and economic growth, and died in 1964; she called him her most important influence.
Having had two abortions in the '30s, including one under appalling back-alley conditions, LeBordais became a pro-choice advocate who later went public with these experiences; she was active in the Canadian Association to Repeal the Abortion Law (later the Canadian Abortion Rights Action League). She was also involved in the struggle for civil rights for "negroes" and mental health patients, and participated in marches for peace, nuclear disarmament, and the abolition of the death penalty; she belonged to the Association in Defence of the Wrongly Convicted. "I come from a long line of crusaders," she once said.
Drawn into the Truscott story, she immersed herself in research for several years. "I think that one of the things that brought this story home to my mother was that she had children in her own home who were the same age as the two kids that were involved in the case," said her daughter, Eleanor LeBourdais. "She had read about the murder in the paper like everyone else, but this was probably what made her pay more attention to it."
After completing a manuscript, LeBourdais wrangled for several more years with her would-be publisher, McClelland and Stewart, whose editors wanted to water it down to avoid possible libel action. Rather than delay publication any further, she found a British publisher, Victor Gollanz, that was willing to publish it as it was. Considering the legal risk much reduced, M&S then reprinted it intact as a second edition for Canadian consumption.
The early '60s was obviously a time of great turbulence and change for LeBordais, who lost her husband, mother and a sister in that period.
"Within a year of my father's death, my mother went out and she learned to drive, bought a car, and got a job," her son Julien recalled. "She hadn't really worked outside the home in many years. She got a job as a PR officer with the Registered Nurses Association of Ontario, and she was working there when the book came out."
Journalist and social activist June Callwood met LeBordais in the early '60s, and recalls her as a friend and mentor. "She seemed to be, for the style that women were at the time, very sharp-edged and positive about what she was doing. . . . She could do anything. She had that same no-nonsense personality that the best women of the time had.
"For me, she was extremely helpful in how I began to shape my life, because she thought that if something was wrong, you should fix it. She taught me a lot."
Retiring from the RNAO in the '70s, LeBordais spent increasing amounts of time at the family cottage in Georgian Bay, which "was a passion with her," Julien said. "We had a seven-acre island, and she often went up there to this rocky island by herself. She loved the wildness of it." An avid canoeist, she had been writing a book about Georgian Bay but left it unfinished.
She leaves her children Isa Cole of Beamsville, Ont.; Eric LeBordais of Cumbria, England; Julien LeBordais of Toronto; and Eleanor LeBordais of Port Moody, B.C; sister Frances Rocksborough-Smith of Vancouver, B.C.; and numerous grandchildren and great-grandchildren. The family plans to scatter her ashes in Georgian Bay this summer. ♦
Originally published in the Globe and Mail, © 2003