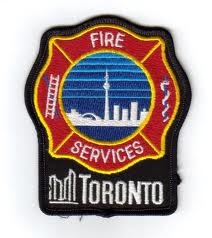 Walter Shanahan, a firefighter who climbed the ladder to the top of the Toronto Fire Department, has died at the age of 71, largely as the result of lingering respiratory problems caused by injuries suffered in two catastrophic city fires.
Shanahan joined the fire department in 1953 and served for many years as a firefighter, most recently as captain of the 19th pumper at No. 14 fire station (Dufferin and Dupont). As deputy chief, he directed the department's battle against the fatal Plaza II fire in 1982 while his superior was away on holidays. He was appointed fire chief for the city of Toronto in 1988 but ailing health and other factors forced his early retirement in 1995.
Walter Shanahan, Toronto firefighter and fire chief. Born in Toronto, August 12, 1931. Died Toronto, August 22, 2002.
He fought ardently for fire safety and instigated numerous improvements to the fire code. In 1989 he had SkyDome officials on tenterhooks by refusing a permit for its gala opening to proceed until crucial fire-fighting equipment and alarms had been installed.
Shanahan claimed he would never send firefighters into any situation that he was not prepared to confront himself, and insisted on attending all blazes that were "second-degree or higher," said Ron McDonald, Shanahan's assistant fire chief.
He was "devastated" by the loss of so many firefighters last Sept. 11 "but he always said, 'When the people are running out, the firefighters are running in,' and that's what you're expected to do," McDonald said.
"He was a great guy to work for. He was an excellent firefighter, he was very methodical, and he was always one step ahead. You pulled up to a fire and he always knew where he wanted the apparatus placed."
"He let the officers do their job, but he was in charge."
Both Shanahan and McDonald rushed to the sensational Rupert Hotel fire of 1989 in which 10 people were killed, and both were trapped but rescued with minimal apparent injury. According to McDonald, both were again trapped in a spectacular conflagration in Kensington Market in 1993, this time with more serious consequences.
"After the Kensington Market fire, the Chief had a lot of lung problems that seemed to plague him the rest of his career, until the day he died," McDonald said. Shanahan had reduced mobility and slept with an oxygen mask in recent years.
A former president of both the Toronto Fire Fighters Union and the Ontario Fire Chiefs Association, he was celebrated as a union leader who "was so good at what he did that they got him to be a manager," said his son-in-law, Fraser Bell. "So he knew both sides in terms of how to fight fires and also the management of firefighters."
"One of his strengths was that he clearly understood the issues and was able to draw from a real depth of understanding in making decisions for the fire service," said current Toronto Fire Chief Alan Speed.
Born in Toronto in 1931, Shanahan attended Humberside Collegiate and St. Michael's College, and took several early jobs with General Electric, Weston's Bakery and other firms. His father worked for Union Carbide, his mother for Simpsons-Sears. He went to Korea about 1950 and served as a bombardier with the 2nd Royal Canadian Artillery for two years. The experience did much to forge both his character and his luck.
Back home and seeking employment, the 21-year-old stopped for a beer at a west-end hotel and met some off-duty firemen who convinced him to apply to the city's fire department. He was hired in 1953, in part because the fire department gave preference to veterans. "To the day he died, he never knew the names of the firefighters he had been talking to," McDonald recounted.
Shanahan's army discipline stood him in good stead with his fellow firefighters, many of whom were veterans of WWII vintage. "The fire department was at that time more or less semi-military, so he had no trouble fitting in," McDonald said.
As adept as he was at fighting fires, he seemed unable to quench the political brushfires that flamed around him in his last few years as chief, usually sparked by municipal councillors with a visceral antipathy to his management style and the department's militaristic culture.
A fierce opponent of employment-equity hiring practices that would have introduced female firefighters into all-male firehalls, Shanahan once explained that the department received 1,000 applicants for every 35 openings and that only the best candidates were chosen. He stood up fearlessly at city council meetings and defended his position, no matter how politically incorrect or how unpopular it made him.
"He always wanted the best when it came to recruitment," McDonald said. "He always said, 'If there's a Wayne Gretsky out there, that's who I want on the team.' He never worried about who it was, as long as they could do the job."
City councillors passed a master fire plan against his strenous objections and rejected his hand-picked successor, parachuting in their own man instead. Shanahan never discussed fires with family members because he didn't want to worry them, but he sometimes spoke of his political strife, his son-in-law said. Still, "he never took a back seat to any politician."
After a funeral service in Toronto, he was buried in the family crypt in the Moonstone area north of Barrie, Ont., beside his parents and Irish-born grandparents. He leaves his wife Betty; children David, Lorraine and Kevin Shanahan and Mary Sereda; sisters Doreen Kerr, Ann Sims and Carolyn Gulyas; and 10 grandchildren. ♦
© 2002