From the Canadian Jewish News, February 2016
"Location, location, location," they say, are the three most important things in real estate. If so, the Ontario Jewish Archives (OJA) has scored a wonderful coup by securing the Urbanspace Gallery in the majestic loft building at 401 Richmond Street West as the venue for an exhibition in homage to Jewish architect Benjamin Brown.
Some three decades after former OJA director Stephen Speisman secured a large collection of Brown's aging architectural drawings and blueprints, current OJA director Dara Solomon has raised $75,000 to restore Brown's crumbling paper legacy and to mount this happy exhibition in situ along the Spadina garment-district corridor where Brown's bricks-and-mortar legacy is most evident.
Just around the corner from the gallery, for example, is the Balfour Building, arguably one of Brown's most important commissions, which, along with his Tower Building across the street, is considered an architectural "gateway" to the garment district. Built for the Shiffer-Hillman clothing company and completed in 1930, the Balfour Building amply demonstrates Brown's superlative sense of scale and proportion — as cited by several experts in an eight-minute looping video that accompanies the show.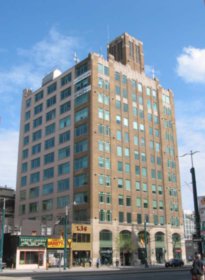 Toronto's first accredited Jewish architect, Brown graduated from the architectural school at the University of Toronto in 1913. Excluded from the Waspish old-boys' network of architects that then prevailed, he attained commissions from a circle of wealthy Jewish businessmen — with names like Gelber, Dunkelman, Cherry, Greisman and Pomerantz — who became his champions. His career reached its zenith in the 1930s. Most conversant in art deco and art nouveau styles, he also utilized more traditional elements from Georgian, Gothic, Tudor, Romanesque and other styles.
"One of the major goals of the exhibition is to position Benjamin Brown as an important early architect in Toronto," Solomon said. "He built so many buildings all around the city that are still standing, yet little is known about him. He's not in the history books."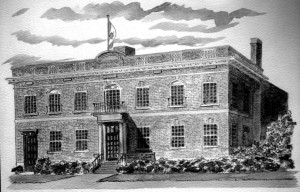 "Benjamin Brown: Architect" highlights many landmark structures, from his addition to the Hermant Building in Dundas Square (soon to be plaqued by Heritage Toronto) to the St. George Street home of Mendel Granatstein (no longer standing).
Besides the grand loft buildings that accommodated both factories and showrooms, he designed numerous Jewish communal buildings of note, including the Primrose Club on Willcocks Street (now the U of T's Faculty Club); the former Beth Jacob Synagogue on Henry Street (now a church) and the Brunswick Avenue Talmud Torah.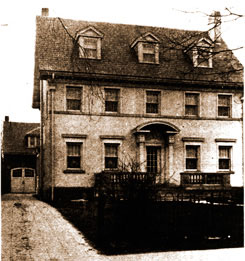 He also crafted many residences for wealthy Jewish patrons as well as more mundane stores, commercial structures and warehouses. He was so prolific that dozens of dots — a veritable blizzard of them — mark his various projects on a large city map designed for the show by artist Daniel Rotsztain. His work presents a tidy cross section of where Jewish Torontonians lived, worked, learned, worshipped and played.
Visitors to "Benjamin Brown, Architect" would do well to stroll around the neighbourhood beforehand or afterwards to view the various local examples of his work, including the seven-storey New Textile Building built for the Gelber Brothers at 205 Richmond Street West. These familiar structures still brilliantly hold their own amidst the forest of much higher buildings that have sprung up all around, and help the district retain its character and definition.
Before departing this once vibrantly Jewish neighbourhood in which Yiddish was the primary language spoken on the street, you may wish to visit the thriving What A Bagel restaurant on the west side of Spadina near Adelaide. How nice to nosh on a bagel on Spadina once again. ♦
◊ Benjamin Brown Architect continues until April 23, 2016 at the Urbanspace Gallery, 401 Richmond Street West, Toronto.