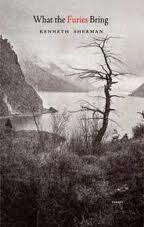 Anyone who cares about the state of contemporary Jewish writing should not neglect to read What the Furies Bring, a new book of essays by Toronto essayist-poet Kenneth Sherman (Porcupine's Quill).
By itself, Sherman's choice of subject matter is compelling. His essay topics include "Yiddish and the Jewish Canon," "Anne Frank and the Search for Self" and "Poetry and Terrorism," and he sets his critical sights on the likes of Ruth Wisse, Chaim Kaplan, Vasily Grossman, Primo Levi and John Updike. He also presents a charming and thoughtful remembrance of his grandfather and his family's early years in Toronto.
These are not mere belle lettres from a detached ivory tower. Perhaps one of the most pressing problems of our day, the furies unleashed upon the world by the perpetrators of 9/11 and the phenomenon of terrorism are a chief concern of many of his essays. The author explains his philosophy that literature "should address the most extreme circumstances" and be more than a "deceptive luxury."
The writing is clear, direct and relevant. Albeit unsystematically and using literature as the focus, Sherman's erudite criticism speaks directly to the problems that Western civilization faces in the era of 9/11.
* * *
After a hiatus of several years, the 15th edition of Parchment, the journal of contemporary Canadian Jewish writing, has appeared, containing a bumper crop of short fiction, poetry, two brief memoirs, and an essay by outgoing editor Adam Fuerstenberg on Canadian Yiddish poetry between the two world wars.
Writers include Anne Dublin, Renate Krakauer, Avner Mandelman, J. J. Steinfeld, Kathy kacer, David Zvi Epstein, I. B. Iskov, Seymour Mayne, Isa Milman, Merle Nudelman and Elana Wolff.
All Jewish writers as well as all those who are interested in either Canadian or Jewish writings, should not hesitate to invest $15 in this volume, not only to help support this worthy vehicle but also in anticipation of good things contained therein.
* * *
Yom Kippur In Amsterdam is a book of stories by Maxim D. Shrayer. I read a few stories and — lo! — I wanted to keep on reading. Stories such as "The Disappearance of Zalman" and "Trout Fishing in Virginia" offer a frisson of pleasure when one realizes that one has been tricked into believing in an illusion and suddenly has the rug pulled out, at the last possible moment, from beneath one's feet.
Shrayer's Jewish characters, like those of our native writer David Bezmozgis, blithely take the immigrant narrative into the 21st century. Like Bezmozgis, Shrayer is an émigré from the former Soviet Union whose writing seems to emerge from the traditions of Isaac Babel, Vladimir Nabokov and Isaac Bashevis Singer. He is a professor of Russian, English and Jewish studies at Boston College. The book is published by the Syracuse University Press.
* * *
The acclaimed Ukrainian-Jewish writer Lamed Shapiro (1878-1948), who first came to the United States in 1905, led a life marked by marked by frequent ocean crossings, alcoholism and failed ventures: for years he sought an improved chemical process for colour-film development, and was as obsessed on that problem as an alchemist might be seeking to transmute base metals into gold.
Yet somehow he managed to transmute the stuff of his chaotic life into a sort of literary gold. Preoccupied with grotesque and even horrific violence, Shapiro wrote about pogroms, rapes, murders and terror as the Jewish people are exiled from the outmoded shtetl and set adrift in the modern world.
The Cross and Other Stories, a new collection from the Yale University Press, is a fresh presentation of some of Shapiro's controversial short stories, set in both the Old World as well as the New World environments of East Broadway and the Bronx, Union Square and vaudeville. The collection is admirably edited by Leah Garrett, associate professor at the University of Denver, who provides a introductory essay containing abundant insights:
"Peretz was the last of a generation of Jewish writers who could be all things to all people," Garrett writes. "The next generation went down two separate paths: the lyrical impressionists in one direction, the naturalists in another.
"The latter — Schneour, Opatoshu, Weissenberg, Warshawski — sought their subjects on the margins of Jewish society, among horse thieves, peddlers, Jews who were all brawn and no brains, and portrayed a gallery of unsavory characters governed by their passions and victims of their environment. Shapiro the impressionist went them two better, by describing the transformation of a sensitive intellectual into a man of iron and by exposing the brutalized inner landscape of an illiterate, speechless Ukrainian peasant."
* * *
Roughly a decade after her debut novel Fugitive Pieces collected an extraordinary assortment of international literary prizes, Toronto-based author Anne Michaels returns to the book charts with The Winter Vault, her second novel, which has been published by McClelland & Stewart.
As before, the writing is as lyrical and exotic as anything in the Ondaatje school of literature that inspired it. The story focuses on a Canadian couple involved in the relocation (and hence rescue) of an ancient Egyptian temple at Abu Simbel before the rising waters of the Nile in front of the newly-constructed Aswan Dam. By night the couple retreat into their individual pasts — he to his childhood in England during the war, she to her childhood with her schoolteacher father, traveling the shores of the St. Lawrence seaway.
Reminiscent of The English Patient, The Winter Vault will undoubtedly be devoured with great relish by the many fans of Fugitive Pieces, perhaps without a concern that the finely-wrought prose seems derivative, overly precious and at times obscure.
* * *
I noticed only recently that the New Canadian Library, an imprint of McClelland & Stewart, has resumed reprinting tried-and-true Canadian classics as in former days. Titles include one of the great landmark volumes of Canadian literature — The Sacrifice, by Adele Wiseman, first published in 1956, and well deserving of continued readership.
Wiseman's solemn, neo-Biblical immigrant saga of three generations of a Jewish family in Canada won the Governor-General's Award for literature when it first appeared. Although it seems a relic of an older, more conventional school of writing than we're used to today, Wiseman writes with enormous sensitivity and talent. M&S has put the novel into an attractive package an afterword by Anne Michaels. ♦
© 2009