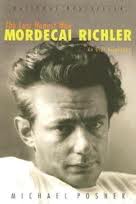 When Michael Posner began his oral biography of Mordecai Richler, his plan was to assemble a collection of entertaining anecdotes about the legendary Montreal writer, but soon realized that psychological insights about Richler would produce a more revealing portrait.
"When I began to do the interviews, I thought, 'This could be more than just anecdotes, it could aim at a certain level of analysis by those who knew him best,'" Posner told the CJN before his appearance earlier this month at the Jewish Book Fair. "If it was only anecdotes, I think it would have been a little less interesting."
The Globe and Mail arts reporter eventually spoke with 150 "extraordinary" people for the project, including Florence Richler, and their five children; the novelist's widow had generously given him her blessing for the book. "You've got to do a warts-and-all portrait, and anything less than that does no service," Posner said. "I think Florence recognized that and she said, 'Go ahead.' I think I was really fortunate."
Published earlier this year (2004), The Last Honest Man has garnered critical acclaim for its multifaceted portrait of Richler that reveals both his public and private sides, and highlights his endearing qualities but does not whitewash his flaws.
Clearly Richler had a dark side, as evidenced his decades-long avoidance of his mother and brother, heavy drinking and rare instances of rude or unfriendly behaviour. But the scales are easily tipped in the opposite direction by revelations of his many good deeds, the essential gentility of his nature and, of course, his outstanding literary talent and sterling wit. (Regarding his brief first marriage to a wife who later took a marked turn in life, Richler once remarked, "How bad a husband could I have been if she became a Buddhist nun?")
What emerges is a strong and compellingly readable portrait that should prove of immense value to future biographists as well as fans of this larger-than-life literary figure whose satirical jabs at Jewish crassness were as famous as his heartfelt swipes at Quebec separatists.
It was precisely because of his willingness to step into Canada's fractious unity debate that Richler was embraced as a beloved national icon by many Canadians, Posner found. "I was really struck by the enormous outpouring of grief after his death from ordinary Canadians, many of whom I suspect may never have read a Mordecai novel," he said. "We lost Timothy Findley a few years ago and Robertson Davies a few years before that, and Carol Shields more recently, and there were wonderful tributes and eulogies for each of them, but somehow the grief for Mordecai Richler surpassed all that.
"I think somehow it was not the novels [that magnified Richler's popular appeal] but the journalism and the political courage he demonstrated by taking on Quebec nationalism."
Richler's characteristic impulse to unmask hypocrisy wherever he found it was not a quality he acquired late in life, according to the Winnipeg-born Posner, who once shook Richler's hand as a student at the University of Manitoba in the mid-'60s.
"There's a real pattern. It doesn't come to him late in life. It was his instinct. That was the man."
As some of the anecdotes demonstrate, Richler could sometimes be "moralistic and judgemental" with his close friends, Posner said. "He had flaws, but I emerged with more respect for his work ethic. And to be fair, the moralism was tempered by his marvelous sense of humour."
Although he knew it was risky, Posner forwarded a copy of the manuscript to Florence Richler as a courtesy; she later phoned with a few corrections and told him that she found the book "very fair and balanced."
"That's as much as I could hope for," he said.
Posner, a former managing editor of the Financial Times and former Washington correspondent for Macleans, said that the Richler project was fun from start to end, except for the task of transcribing the taped interviews and the difficult duty of cutting more than 50 manuscript pages before publication.
Are there still areas of Richler's life that will likely reap more new material for future biographers?
"The relationship with the mother — that will be worth probing more. There are some private letters that are still off limits to researchers and some, I imagine, were sent from her to Mordecai and from Mordecai to her. Some, I imagine, are less than totally flattering." ♦
© 2004