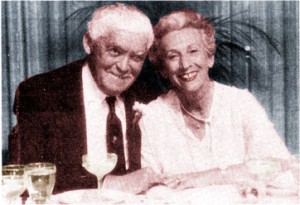 Rabbi William Rosenthal, a beloved teacher and dedicated volunteer who co-owned Miriam's Fine Judaica for 41 years, died on April 11 (2008). He was 97.
Born in Miskolc, Hungary in 1911, he and his brother operated a lumber business. He had attended yeshiva and at age 34, he became engaged to Miriam Schwarcz who lived in Komarno, Czechoslovakia.
The wedding was planned to take place in Miskolc, but in 1944, things were very difficult for the Jews.
With the help of a gentile friend and employee who provided Miriam with false identity papers from his own daughter, Miriam was taken to Miskolc by her father's friend, Miriam said.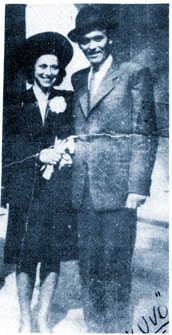 Miriam and William were married on April 5, 1944, several hours after she arrived in Hungary.
Three months later, William was taken to work in a slave labour camp in the Carpathian Mountains. Miriam was taken from the ghetto to Auschwitz and there she discovered that she was four months pregnant.
Their stories of survival are filled with suffering and miracles. After liberation, they were reunited, and to William's surprise, they had a four-month-old baby boy.
They came to Toronto after travelling to Bratislava, Prague, Paris and Cuba. After working in a mattress company for a short time, William obtained a position in Timmins, Ont., as a rabbi and Hebrew teacher. After one year, the family moved to Sudbury, where he served for 16 years as rabbi, cantor and teacher.
In 1965, the family moved to Toronto and opened Miriam's Fine Judaica on Bathurst Street at Caribou Road which the Rosenthals operated for 41 years.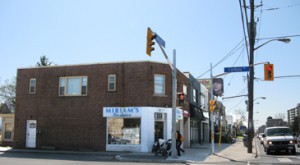 Knowledgeable about Jewish rituals, he was often asked for advice. When a man came to the store who said he had to say Kaddish and needed tfillin but couldn't afford them, Rabbi Rosenthal gave him the tfillin and taught him how to put them on and how to recite the prayer, his daughter, Lilian, said.
Through the years, he served as rabbi and cantor for High Holy Day services in communities such as Halifax, Glace Bay, Nova Scotia, Guelph, Ontario, and Welland, Ontario.
His passion for Jewish learning led him to perform many services for the elderly as a volunteer telling Yiddish stories and performing Hebrew and liturgical songs. He was recently honoured for more than 2,000 hours of service at Baycrest.
He is survived by his wife Miriam, sons Leslie and his wife Annette; Murray and his wife Margo; daughter Lilian; seven grandchildren, and seven great-grandchildren. ♦
This article appeared originally in the Canadian Jewish News and appears here courtesy of the author. © 2008 by Cynthia Gasner.
* * *
Miriam's Judaica store closes after more than four decades
By Cynthia Gasner
After more than 40 years of operating Miriam's Fine Judaica at 3007 Bathurst Street, north of Lawrence Avenue, Miriam and William Rosenthal will be retiring and closing their family-run business (2007).
The Rosenthals and their daughter Lillian have considered their Judaica store far more than a business. Over the years, it became a welcoming open-door location where locals as well as visitors to Toronto would drop by to reminisce, ask for some advice, or just shmooze.
"During our selling-out sale, it has been a very emotional time for all of us, because we made so many friends through the store," Miriam said. "People come to the store with flowers and some crying. They ask why we are leaving."
She explained that her husband, who is a rabbi, is 96 and she is 84. They recently celebrated their 63rd wedding anniversary. "It's time for us to retire. It would be too difficult for Lillian to run the store by herself and we are getting on."
William said: "We will miss the store very much. Our customers became family members. We went to their children's bar mitzvahs and other simchahs. People came to our store when they visited from as far away as Sweden and Alaska."
Miriam added, "We were delighted to have helped so many people. One man, as an example, came into the store and had to say Kaddish for his father. He admitted that he didn't know how. My husband taught him how to lay tfillin and how to recite Kaddish."
William said that even non-Jews came to the store.
"A student came with his mother asking if we could help him with an essay on the Holocaust. We were delighted to help and he did very well on his essay. For many years, his mother sent us a Rosh Hashanah card every year."
Miriam (Schwarcz) was born into a wealthy Orthodox family in Komarno, Czechoslovakia, in 1922. Until March 1944, life in Komarno was relatively calm.
Miriam had just become engaged to William who lived in Miskolc, Hungary. They had planned a large elegant wedding and everything was ordered and ready. Then the Final Solution was put into motion.
Jews were not allowed to travel. On April 5, 1944, disguised, with false papers and wearing a cross, Miriam slipped into Miskolc. The rabbi told them, "You came and you are engaged. We have to make a wedding. It will be tonight." The next day, the bombing began and the Germans came to Miskolc.
William was taken to a forced labour camp. Miriam was sent to Auschwitz, where she discovered that she was pregnant and had to keep her pregnancy a secret. She was sent to Augsburg, Germany, to work in a Messerschmitt factory. One day, the SS came to look for pregnant women to send them to the gas chambers. She was the only one they found.
The SS took her to Kaufering camp, where there were six other pregnant Hungarian women. The seven women gave birth. The Germans knew the war was ending and they wanted to show the world that they didn't kill infants. But then the entire camp was evacuated and they were all sent to Dachau. They were liberated by the Americans.
Shoeless and emaciated, Miriam found her way back to Komarno and sent a message to Miskolc that she was alive. When she and William were reunited, William could not believe that Miriam was alive and they had a son, Leslie.
The three Rosenthals came to Canada in 1947, leaving behind remnants of their families. William worked stuffing mattresses in Toronto. Two years later, someone heard William daven at shul and asked if he would come to Timmins to serve as rabbi and religious teacher there. Their daughter Lillian was born in the northern Ontario town.
The following year, they moved to Sudbury, where William also served as rabbi and where their third child, Murray, was born. In 1956, they moved back to Toronto to give their children a Jewish environment and education. They opened Miriam's Fine Judaica shortly after their return to the city.
The couple now have seven grandchildren and seven great-grandchildren.
Miriam said it is painful for the couple to have a selling-out sale, because "it brings back so many memories."
She added: "We want to thank the many people who supported us. I didn't realize that Miriam's Judaica was much more than just a business. It was our outreach." ♦
This article appeared originally in the Canadian Jewish News and appears here courtesy of the author. © 2007 by Cynthia Gasner.