From the Canadian Jewish News, 2017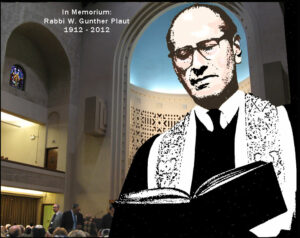 From the moment in 1961 that he stepped into the role, Rabbi W. Gunther Plaut was always much more than rabbi of the esteemed historic Reform congregation, Holy Blossom Temple of Toronto.
It was entirely Toronto's gain and St. Paul Minnesota's loss when Holy Blossom enticed Rabbi Plaut here, for he at once took on the additional role as an adept and articulate spokesperson for the city's Jewish community. He also served as ex-officio emissary-ambassador between the Jewish community and the wider Christian society across Canada. Outreach was his thing.
A respected scholar and author whose Torah: A Modern Commentary (1981) was almost 1800 pages long and 18 years in the making, Rabbi Plaut wrote for The Canadian Jewish News and contributed occasional opinion pieces to the Globe and Mail. He perpetually made the case for the Chosen People in books like The Case For The Chosen People and Your Neighbor is a Jew and many others.
His autobiography Unfinished Business, which also came out in 1981, received a glowing review in the Globe by Rabbi Stuart Rosenberg, ex-rabbi of Beth Tzedec. "The book is an easy read, warmly and graciously written," Rosenberg wrote. "Much of it is told in conversational style; we have the feeling that we are sitting down personally with a delightful man as he spins out tale after tale in wistful reminiscence of an active and inspiring life."
Wolf Gunther Plaut was born in Munster Germany in 1912, and grew up in Berlin amidst its huge Jewish community surrounded by the increasingly anti-semitic and roughneck Gentile society. He graduated from law school in 1934 but, being Jewish, could not practise law, so turned to Jewish theology instead. "I wanted to know what it truly meant to be a Jew if I was made to suffer for it," he said in a 1998 interview.
Rosenberg astutely observed that the predominant theme of Rabbi Plaut's autobiography was "his loss of innocence as a German Jew in the mold of nineteenth-century romantic liberalism, and his slow awakening and growth into a twentieth-century activist Jew."
In 1935 he was offered a scholarship at Hebrew Union College in Cincinnati, which became his ticket to escape the Nazis. Ordained in 1939, he took a pulpit in Chicago. The day he finally received American citizenship in 1943, he enlisted as a chaplain in the US Army.
He served on the front lines in Belgium and Germany, and assisted in the liberation of the Nordhausen-Dora concentration camp in Germany. After the war he returned to Chicago, then moved to St. Paul, then Toronto.
Rabbi Plaut laboured zealously to build channels of dialogue to his Conservative and Orthodox counterparts within the Jewish world as well as to the wider Gentile community. He co-founded Toronto's Urban Alliance on Race Relations, served as vice-chair of the Ontario Human Rights Commission, president of Canadian Jewish Congress. He received many honourary degrees and awards including a US Bronze Star and a companionship in the Order of Canada.
An outspoken supporter of Israel and critic of neo-Nazis, Plaut in 1971 led a 12,000-strong march on the Soviet embassy in Ottawa in support of Soviet Jewry, and tried to prod the Christian community to join the cause. "Where are the churches, where is the voice of organized Christian religion?" he later asked. "Why are they silent? Why do they not help us mount a universal campaign to expose this latest example of cultural and religious genocide?"
A senior scholar at Holy Blossom after 1978, Plaut entered his nineties still an avid tennis player and dedicated humanist. Until Alzeimer's claimed him, he was a regular and much-revered visitor at Holy Blossom's seasonal Out of the Cold homeless program, sharing a meal with a different table of guests each week, and talking about the dangers of racial prejudice and the lessons of the Holocaust. He died in 2012 in his 100th year.
In many things that he did, Plaut's actions seemed to reflect his belief that "my purpose on Earth is to serve not only my people, but to serve humanity and do so as a Jew." ♦