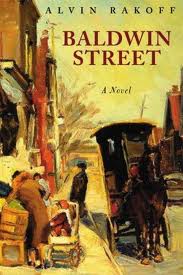 Alvin Rakoff, author of the previous novel & Gillian, is proof of the old maxim that you can take the boy out of the country but you can't take the country out of the boy. An accomplished film producer and director based in London England, he now offers us — with Baldwin Street (Bunim & Bannigan) — a series of linked stories that take place in the richly remembered domain of his boyhood.
Rakoff's setting is Kensington Market and the Baldwin Street of his youth, as seen through the eyes of his young protagonist, Leonard Abelson. Leonard has a knack for being in the right place at the right time and thus becoming privy to secrets and liaisons that would have eluded most others. He is a casual observer in some stories and an active participant in others; most are told in the third-person but a few utilize Leonard's own first-person narration. The technique adds depth and realism to the fictional world that Rakoff creates.
With a sure hand and trademark short sentences that sometimes seem too clipped, Rakoff presents a parade of colourful portraits and vignettes, veering from the unusual to the grotesque. In one well developed and richly painted story, Effie, a Yiddish-speaking black woman, becomes a trusted accountant for a Jewish businessman. In another, Murray Millstein, who lives on Augusta Street, is deeply affected by the loss of his wife and starts going to market dressed in her clothing. "The Verys" focuses on Melvyn and Goldie Rabinowitz, a mismatched husband and wife (respectively very small and very big) who come to Leonard, by this time of college age, for advice.
Redolent of the atmosphere of the old market of the prewar era, this package of linked narratives is well made and charming. Although collectively these stories lack sufficient unity to be considered a novel, they make for rewarding reading just the same. ♦
© 2007