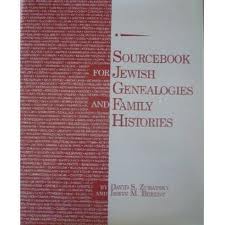 Sourcebook for Jewish Genealogies and Family Histories, by David. S. Zubatsky and Irwin M. Brent, is an updated edition, with substantial additions, of a two-volume bibliographic reference tool for genealogists that was published years ago. The revised work, published 1996, offers more than 22,000 entries pertaining to some 12,000 family names, culled from a variety of primary sources: books, newspapers and journals, Jewish encyclopedias, family papers and other material held by public institutions (but not in private hands). For the first time, an appendix lists the surnames by the Daitch-Mokotoff Soundex system so that, for instance, anyone researching an Elfassi line is also directed to materials pertaining to the Alves, Elbaz and Elves families.
The Sourcebook is valuable because it can direct researchers to hard-to-find items in obscure journals or archival collections. As the compilers explain in a brief introduction, the book provides information about the relevant holdings of archives where "access problems and foreign language deficiencies" might have hitherto prevented researchers from making discoveries about their family trees. Some mainstream institutions are included as well.
Two and a half pages long, the list of "Major Sources Consulted" in the compilation of this book includes — for example — finding aids for the American Jewish Archives, the Central Archives for the History of the Jewish People in Jerusalem, and the YIVO and Leo Baeck institutes in New York. It also includes many important biographical reference tools and well-known works of Jewish genealogists such as Benzion Kaganoff (Dictionary of Jewish Names and Their History), Neil Rosenstein (The Unbroken Chain) and Malcolm Stern (First American Jewish Families). The list of "General Works" consulted goes on for seven pages and includes many lesser-known foreign sources, particularly in German, Dutch, Hebrew and Spanish.
Some entries are brief, saying merely "AMH has family records" or "HJA has family records" (leading the researcher, respectively, to the Albert Montefiore Hyamson papers in London and the Hungarian Jewish Archives in Budapest). However, many provide a succinct description of the material one might hope to find by tracing the items indicated. Some, such as the following typical entry under the surname Sheldon, offer useful capsules of information on their own:
'Herman Sheldon,' Rocky Mountain Chai: Historical Perspectives (Rocky Mountain Jewish Historical Society, Denver), 7 (June 1983):2-4. Real family name Sieradzki. Herman Sheldon (1908- ) was a fur merchant in Leipzig, Germany and New York; then real estate magnate in New York and Colorado. He is the son of Aaron and Esther Sieradzki of Lodz, Poland. Aaron's children are Morris, Sam, Max, and Dora.
Published by Avotaynu Inc., Zubatsky's and Berent's Sourcebook should be an essential possession for every Jewish genealogical society and professional Jewish genealogist. Every good genealogical library should have a copy. ♦