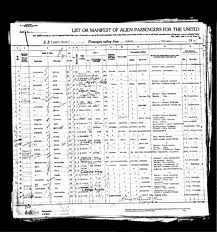 As I am researching the history of my mother's huge Toronto mishpocha (family), I've attempted to locate as many ships' passenger manifests as possible showing the arrival of relatives to Canada from their various towns in Belarus, beginning about a century ago.
The recently established web site of the National Archives's Canadian Genealogy Centre (www.genealogy.gc.ca) has helped enormously in this regard. Thanks to a joint project of the Jewish genealogical societies of Ottawa and Montreal, the site offers an index of about 200,000 Canadian naturalizations that occurred between 1915 and 1932. In short, it's a goldmine of national heritage.
It costs $5 to apply to Ottawa for copies of the paperwork behind each naturalization. The result is a sheaf of papers that may include the immigrant's original application or petition for naturalization, a standard police report on the applicant, a handwritten oath of allegiance, a list of children and birth dates, and not-always-reliable details about the applicant's birth and entry into Canada.
The documents typically contain sentences like: "I was born at Bobruisk in the country of Russia on the 5th day of October 1887," and "I arrived at the port of Quebec on the vessel SS Corsican on or about the 1st day of August 1909."
No true genealogist can read the latter pronouncement without rushing to the nearest convenient library — for me, the North York Central Library — that holds a set of the National Archives' microfilms of passenger arrivals to Canadian ports.
If passenger list research is often compared to seeking out a needle in a haystack, knowing the name of the ship and a range of dates generally reduces the size of the haystack to manageable proportions.
At the library, a finding aid indicates that Quebec manifests dating from July 25 and August 30, 1909 may be found on microfilm T-4762. The researcher threads that reel onto a microfilm reader and begins scanning pages, stopping only at the front of each new manifest for the vessel's name. Luckily, the SS Corsican quickly appears, and a page-by-page scan of passengers soon turns up the sought-after relatives.
There the serendipity ends, however, because some lazy purser has listed initials — I., R., L., N., Iz., G. and S. — instead of first names. Since all Jews have at least three names (Gershon, Tsvi, Hersh or Israel, for example, all being reasonable equivalents of "Harry"), the puzzle requires careful study of the columns showing age, sex and marital status.
Searches typically involve much more effort than this exemplary example. Some time ago, I learned that a great-aunt gave birth to a daughter aboard ship while crossing the Atlantic, on Feb. 29th of a leap year. Pinpointing the years to either 1904 or 1908, I've searched the records of all obvious ships upon which the mother could have had a "berth," but have had no luck as yet. It hasn't been the cinch I imagined it would be.
Even when armed with details from a naturalization file, the genealogist will still need to scroll through microfilms for hours if those details are inaccurate. The reward, however, if and when it comes, will justify the effort.
Herewith, family surnames of Jewish arrivals at Halifax aboard the SS Numidian or the SS Grampian on Jan. 19 and Jan. 25,1908, respectively:
Going to Montreal or elsewhere in Quebec: Bergin, Feinstein, Israel, Karnker, Lischisky, Mizicofsky, Rosenberg, Rubin, Turlin, Weinberg, Zaslansky.
To Toronto or elsewhere in Ontario: Cagman, Schipper, Wiseman.
To Winnipeg: Auerbach, Chuslowsky, Freimann, Gicharman, Goldenberg, Halperin, Ibarz, Margulis, Schalman, Schwarzmann.
To St. John, N.B.: Bialick, Zelesman.
If this column leads you to a ship manifest for your family, please let me know. ♦
© 2003
* * *
Edmund Scheuer (1847-1943), an early Jewish leader in Hamilton and Toronto, is known for founding the first religious school in Hamilton, the first Reform temple in Canada (Hamilton, 1882) and for bringing many reforms to the Holy Blossom congregation in Toronto. A justice of the peace since 1902, he also attempted to found a Jewish agricultural colony and school in Georgetown, Ont.
Known for his philanthropy, the Prussian-born Scheuer was the oldest established diamond importer in Canada. Thus, one shouldn't really be surprised to discover (as I did recently) that he sailed from Southampton to New York in 1923 in the distinguished company of Lord Beaverbrook, Prime Minister William Ferguson Massey of New Zealand and Prince Dimitri of Russia. Also on board the S.S. Aquitainia were a clutch of high-ranking diplomatic officials from Europe and Japan and sundry bank officials, civil servants and buyers from the T. Eaton Co.
The passenger list is easily available through the Ellis Island Data Base (EIDB) web site, located at www.ellisislandrecords.com. What is less easily available are answers to the many questions it raises. Were Scheuer and Beaverbrook friends? Was their trip a trade mission? Like most genealogical-historical documents, this one is swathed in mysteries that demand further research.
As I wrote in a previous column, the EIDB web site makes the passenger records of some 22 million immigrants accessible to the public. I am writing about it now to report that a couple of computer-savvy members of the Jewish genealogical community, Stephen P. Morse and Michael Tobias, have developed an innovative search tool that helps enormously in pinpointing ancestral names in EIDB that may be terribly misspelled and thus hard to find.
The Morse-Tobias search tool, located at http://home.pacbell.net/spmorse/ellis/ellisjw. html, is especially designed for searches for Jewish passengers by a variety of simultaneous parameters, including name, age, year, ship, port and town name.
Some researchers have reported success by searching by town name and only the initial of an ancestral surname. An elusive ancestor named Hersz Poznanski of Vilna, for instance, might turn up in a search for all the P surnames from Vilna, under the erroneously transcribed name of Porransky. The search can be done on a year by year basis, if necessary.
The Morse-Tobias search tool makes it easy to find Jewish Canadians like Scheuer, who were returning home from Europe via New York. Here are some family names that came up by searching under the town name Montreal and the initial P: Pappelbaum, Paskin, Pierce, Pozner. Using Toronto and the initial L: Lavine, Levin, Levy, Lewis, Lipowice, Litowitz, Lorie, Lubelsky. Using Winnipeg and the initial G: Gassner, Goodman.
Starting in the 1880s, the Statue of Liberty shone a beacon of light and hope to millions of Jewish immigrants from Europe and Russia who became the "poor, tired, huddled masses yearning to breath free" that Jewish poet Emma Lazarus immortalized.
Today a new beacon — the Ellis Island Data Base — is attracting the contemporary Jewish masses. Anyone whose ancestors landed in New York between 1892 and 1924 stands a good chance of recovering an important part of their family history at this remarkable site. Once considered the portal to a new life in America, Ellis Island now offers a wonderful portal into the past.
* * *
Good Books: The newly published Discovering Your Jewish Ancestors, by Barbara Krasner-Khait (Heritage Quest) is one of the best general reference books I've seen in several years. And so popular has the subject become that even Reader's Digest has gotten into the act: its Genealogy Handbook, by Ellen Galford, is a colourful and appealing beginner's guide. ♦
Note: A much more powerful search engine, designed by Stephen Morse specifically for Jewish searches, is available at JewishGen.org.
© 2001