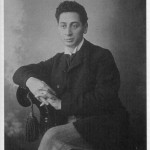 Eighty years ago, as Yiddish writer and playwright Sholem Asch celebrated his 50th birthday in 1930, he seemed to be riding on top of the world. His newest book, Fam Mabul, was a critical and popular success among Yiddish readers– it would soon become vastly more popular in its English translation as Three Cities — and his various plays were doing well both in Poland and the United States. In birthday celebrations in Paris, Warsaw, Vienna and other cities, he was toasted by the likes of Franz Werfel, Stefan Zweig and other famous friends, while Albert Einstein and Chaim Weizmann cabled their congratulations.
Asch, it was said, was the first Yiddish writer able to support himself and his family solely through his literary earnings. He always traveled first-class, was a regular contributor to the New York Daily Forverts, and was arguably the most celebrated and popular Yiddish writer of his day. Three Cities was so highly regarded that in 1933 Asch was nominated for a Nobel Prize in literature — some 45 years before I. B. Singer became the first and only Yiddish writer to actually win that prize.
After his first book of stories, In a shlekhter tsayt (In a Bad Time, 1902) established him as a wunderkind of the Yiddish literary renaissance, he wrote books and plays prolifically, all drawn from the Jewish world, present and past. Among Jewish readers, his popularity seemed unshakeable. Not even his controversial 1909 play, God of Vengeance, which was closed down on Broadway because of its explicit depicition of a lesbian relationship, could seriously harm his base of adoring fans.
Yet little more than a decade later, his standing among Jewish readers suddenly dropped precipitously, never to recover, as a result of his controversial decision to write three novels about Jesus and Christianity. In the ominous year of 1939, Asch brought out The Nazarene in English after editor Abraham Cahan utterly refused to publish the Yiddish original in installments in the Forverts as he had done with most of Asch's previous works. The book was an "indescribable mistake, and much worse than a mistake," Cahan railed. "It will remain a disgusting stain on Yiddish literature. There cannot be two opinions about this."
For many, Asch's subsequent publication of The Apostle (1943) and Mary (1949) only added salt to the deep wound of what many saw as his callous betrayal of Judaism. True, many literary reviewers hailed these novels as artistic triumphs, and The Nazarene, at least, climbed impressively up the New York Times bestseller list. Asch defended himself by explaining that, as a Jewish writer, he wanted merely to reclaim Jesus as a Jewish figure and thereby reconcile Christians and Jews. But Asch's attackers did not relent in their angry assertions that he had abandoned the Jewish world just when he was needed the most, and could have better exerted his influence combatting Naziism.
"His Jewish readership could not comprehend a Jewish author writing in Yiddish who turned from his traditional preoccupation with Jewish life to the origins of Christianity as a focus for his writing," observes literary critic Nanette Stahl. "The fact that these novels appeared during the Second World War as the Nazi annihilation of European Jewry was unfolding did not help his cause."
Cahan led a vituperative campaign against Asch in the Forverts and even wrote an entire book to denounce his alleged apostasy. He also began referring to some of Asch's earlier works as "shund" or artless trash. Taking up the sword, Forverts writer Herman Lieberman wrote a highly antagonistic piece claiming that Asch's novel could serve to "lure Jewish children into worshipping foreign gods." Stung beyond words, Asch saw Lieberman at a public gathering and gave him a resounding slap across the face.
Ironically, The Nazarene did so well commercially that it gave Asch a new level of financial security, but what profiteth a man to gain the world and lose his base of support? Neither The Apostle nor Mary did as well commercially. By the time Mary was ready for production, Asch's longtime translator, Maurice Samuels, wanted nothing more to do with the books and refused the assignment. In 1951 Asch published Moses, his grand novelistic retelling of the Exodus saga, but his status as the author of The Nazarene and his other Christian books seemed only to undercut his authority in Jewish eyes.
As Asch's grandson, David Mazower, pointed out in a 2000 essay, had it not been for Asch's foray into the forbidden realm of Christological subject matter, he might. upon his death in 1957, have been given a legendary funeral of the sort that had been reserved for only a few Yiddish greats before him. "Had he died twenty or thirty years earlier, his passing might have attracted the sort of mass crowds that packed Warsaw to pay tribute to Peretz in 1915 and accompanied Sholom Aleichem's hearse from the Bronx all the way to Brooklyn the next year," Mazower wrote. Instead, only a handful of relatives and mourners attended the funeral in a cemetery in the Golders Green section of London.
Is it time to resurrect Asch's damaged reputation? That was the question that brought together an international group of scholars ten years ago for a conference on Asch at Yale University. The conference resulted in the publication of Sholem Asch Reconsidered, a thoughtful book of essays edited by Nanette Stahl with contributions from more than a dozen writers.
Among other conclusions, the essays demonstrate Asch's towering influence in the world of Yiddish letters. In an essay on "Sholem Asch and I. B. Singer," Montreal writer David G. Roskies itemizes Singer's great debt to Asch. Singer's The Family Moskat was written in reponse to Asch's Three Cities, Roskies contends, just as Shadow's on the Hudson was Singer's reply to Asch's East River, his 1946 novel about New York City life.
It was Mazower who noted Yiddish poet-essayist Melech Ravitch's prophetic remark that "a true assessment of Asch's work will have to wait for future generations — perhaps seventy years from now, not less." Some three-quarters of a century later — right on cue, it seems — critics are just beginning to sift through the ashes of one of the hottest controversies to blaze through the Jewish literary world over the last century. ♦
© 2011