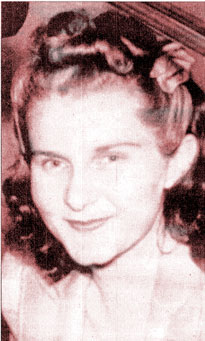 Many Canadians do not know that one of the world's greatest pop songs of all time, I'll Never Smile Again, was written by a Canadian, Ruth Lowe, more than 60 years ago.
Although the song has been recorded by famous orchestras and well-known vocalists, it was not until recently (2004) that attention was once again focused on the composer. The original, four-page, hand-written manuscript turned up in Winnipeg and was returned to Lowe's son, Toronto photographer Tom Sandler.
"Although she won a Grammy Award and her music was No. 1 for months, and is still heard regularly, I think she has never been recognized properly in her own country," says Sandler.
"She was a pioneer in the music industry, worked with many of the greats and has produced something that lives on."
Lowe wrote I'll Never Smile Again in 1939, to express her grief after the death of her first husband, music publicist Harold Cohen, at the age of 29. She had given the original manuscript to her friend Vida Guthrie, who was the musical arranger for orchestra leader Percy Faith.
Guthrie died in 1990, and the music sheets went to her daughter, Jane Morton, who lives in Winnipeg. Morton did not know what to do with the manuscript.
This summer, Morton received a call from a friend who told her that the History Channel was going to show a documentary biography on Lowe, who died in 1981 at 66. After she saw Lowe's son, Tom, on the program, she got his e-mail address and sent him a note telling him that she had his mother's original manuscript.
Sandler says he was overwhelmed and spent no time making the decision to fly to Winnipeg to get the manuscript. "It was very exciting. I think my mom would be the most excited and the happiest for me right now. Her dream would be complete — happy children. That was her real priority in life, even more than her music."
Ruth's father, Sam Lowe, was a struggling grocer in Toronto who moved his family to Los Angeles when she was a child. Her father died and soon after they returned to Toronto. As a teenager, she went to work at the Song Shop on Yonge Street, playing songs on the piano for people who were buying sheet music.
At the store, Lowe heard that the famous all-female Ina Rae Hutton Orchestra needed a piano replacement for one night. She got the job and so impressed Hutton that she toured the United States with the orchestra.
Lowe met and married Cohen, and they lived in Chicago until he died of a kidney ailment in 1939. The 24-year-old widow returned to Toronto broken-hearted and began writing songs and playing piano on CBC.
She also worked with Percy Faith. To a reporter, she once said, "One day, Percy walked into the studio and heard me playing this song [I'll Never Smile Again]. He thought it was lovely and asked if he could play it on his show. He later recorded it."
Several months later, when Tommy Dorsey performed at the Canadian National Exhibition, someone gave him Percy Faith's recording of the song.
Dorsey recorded I'll Never Smile Again, featuring a young vocalist, Frank Sinatra, and the Pied Pipers. It became the biggest hit song of 1940 and was No. 1 on the first Billboard magazine chart. Other bands, including Glenn Miller's and Count Basic's, recorded the song and included it in their repertoire.
Sandler says although the song "wasn't about the Second World War, it caught the emotion of the time."
Lowe moved to New York, where she met many great performers. When Sinatra left the Dorsey band, he asked Lowe to write a theme song for him. She wrote the lyrics for Put Your Dreams Away, which was Sinatra's theme song for more than a quarter of a century.
In 1943, Lowe returned to Toronto, where she married Nat Sandler, a stockbroker. They had two sons, Stephen and Tom. Her life changed, as she became a well-to-do wife and mother. Although she continued writing songs, it was difficult to make the rounds to music publishers.
Tom says he remembers the many famous musicians who would come to their home when they played in Toronto. In 1954, his mother was tricked into visiting Los Angeles and to her utter surprise, after being out of the limelight for a decade, she heard host Ralph Edwards say, on the television show of the same name, "This is your life, Ruth Lowe."
In 1982, I'll Never Smile Again was inducted into the Grammy Hall of Fame. Now, more than half a century after it was written, I'll Never Smile Again is still being recorded by some of the world's most renowned musicians.
Sandler is working on a book about his mother's life. "She left a great deal of memorabilia from famous performers and composers, as well as old records and clippings," he says. "I think it will make a fabulous history." ♦
This article originally appeared in the Canadian Jewish News and appears here courtesy of the author. © 2004 by Cynthia Gasner.
You may also wish to read Toronto's Tom Sandler, photographer to the Royals