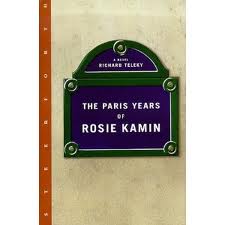 Toronto writer Richard Teleky has won a prestigious literary prize — the Harold Ribalow Award for the Best Novel of the Year on a Jewish Theme — for his first novel, The Paris Years of Rosie Kamin (1999).
The award, which includes a $1,000 cheque, is administered by the American Jewish organization Hadassah, which published a chapter in its magazine Hadassah in January. Previous winners have included Anne Michaels, Anne Roiphe and Philip Roth.
At the award ceremony which occurred late last year in New York, Roiphe praised Teleky for writing "cross-gender without a false note" and described the novel as "an extraordinary act of empathy." She characterized it as a work of low realism which possesses one fabulous-surrealistic occurrence that transforms it into a fable.
Teleky teaches creative writing at York University and is a fellow in York's Center for Jewish Studies. "It was a surprise to Hadassah to learn that I'm not Jewish," says the Cleveland-born writer who came here in the late 1960s.
"I've always lived my life since childhood in a Jewish milieu," he says. "My very first friend in elementary school had parents who were concentration camp survivors. My first piano teacher escaped a concentration camp. That pattern has gone on my entire life. It's not that I seek people out, I just keep meeting them. It's very natural for me to write about people from that world."
Rosie Kamin, the novel's title character, is an American Jew living in Paris whose mother, a survivor of the Holocaust, had committed suicide. When her Arab lover unexpectedly dies, her repressed feelings around the much-earlier loss of her mother resurface, and she is forced to deal with them.
Rosie and her coterie of immigrant friends are outsiders in Paris, just as her parents' generation, being Jews, were outcasts in European society. She and her sister, Deb, who visits from America, are portrayed as sad but sympathetic eccentrics. Together they visit Budapest in search of a belated understanding of their mother's past.
Teleky paints Paris from the perspective of an immigrant, an outsider living on the fringes of society. "I've always been attracted to outsider figures, people who are labeled as marginal, because the energy of any culture is in the outsider," he says.
The child of one Protestant and one Catholic parent, he says he did not have to struggle to write convincingly about a Jewish character, just as he found he could credibly write a book in which a woman is the central character.
"We've made political correctness such an issue, and I think it's a false one," he says. "Because from the start I wasn't going to pass myself off as anything but what I was. In a way I didn't choose the subject, the subject chose me. I was conscious of that throughout the book."
He describes the book as a type of short novel known in German as a "conte" — longer than a novella, and usually organized around the consciousness of one character.
"It's not ironic, it's very human. Isaac Bashevis Singer is the closest example I can think of in America. It's a very European sensibility."
Teleky has already finished a second novel and is at work on a third. Previously a fiction editor for the Oxford University Press in Canada, he saw into print Canadian Jewish Short Stories, a well-known anthology edited by Miriam Waddington, in 1990. He is also the author of Hungarian Rhapsodies, a book of essays on Hungarian culture. ♦
© 1999