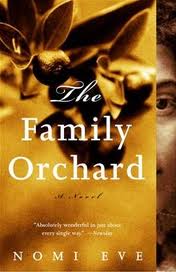 Nomi Eve, author of The Family Orchard, has taken sections of her family history, as supplied to her by her father, a genealogist, and used them as the foundation for a novel that spans two centuries and the familiar Jewish terrain from Eastern Europe to the land of Israel. As she advises, references to actual localities and historical records are intended to give the fiction a setting in historical reality, but all names, characters, places and incidents sprang out of her own rich imagination.
The jacket copy calls Nomi Eve's debut novel "a rich tapestry of Jewish life and humor and yearning, woven from timeless themes: the evolution of family, the setting down of roots, the sorrow of immigrants and the joy of pioneers, the secrets that bind families together and the legends that sustain them." Genealogists will be delighted by the respect accorded to Jewish genealogy throughout, as well as the multiple family charts that punctuate the text.
The romanticized story is full of the sort of Peyton Place-type details that genealogists would be highly advised against introducing into any actual family history. But in fiction, all such things are possible, and as Isaac Bashevis Singer and other exemplary practitioners of the art understood, there's no better place to spill dangerous family secrets.
Since its release last year, The Family Orchard has become a Book of the Month Selection and recently appeared in softcover.
Hardcover novel, 316 pages. Published by Alfred A. Knopf, 2000. ♦
© 2001