From Canadian Jewish News, February 2014
Aaron Lansky, president and founder of the National Yiddish Book Center in Amherst, Mass., announced at last summer's Jewish genealogy conference in Boston that Yiddish over the next few years "will take its place as the first completely digitalized and accessible literature in human history."
The Yiddish Book Center is reportedly in the final stages of perfecting an optical character recognition (OCR) software system for Yiddish literature that will make all of its 40,000 rescued Yiddish titles, and perhaps some 3,000 Yiddish periodicals, fully searchable by keyword.
"You can type in any search term — the name of your family, a place name, anything you want — and it will instantly search five million pages of Yiddish literature," Lansky said. "Research that would have taken ten years can be done in ten seconds. This is coming very very soon."
Aided by generous grants from Steven Spielberg, the Center began scanning books about 1997. Teams of workers scanned books in three shifts a day for four years to complete the task. Special machines were utilized that could scan both sides of the page at once, and sometimes "we had to clean the glass after each scan because the books were crumbling," Lansky said.
Additionally, they had to cut the spines off some books in order to feed the pages through. Lansky called the process "the General Westmoreland school of digitalization — we had to destroy the book in order to save it."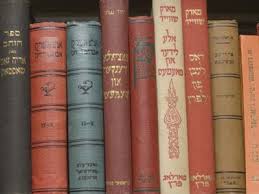 Although not searchable, more than 11,000 Yiddish works are now accessible free of charge via the "internet archive" website, internetarchive.org. According to Lansky, the online works have been downloaded about 500,000 times. Not bad for a language supposedly in its death throes.
The Yiddish Book Center has been training large numbers of students to undertake translations of the 98 per cent of the titles on its shelves that have not yet been translated. "The good news is that an ever-growing number of younger and non-native Yiddish speakers, both inside and outside the academy, are seeking out training and opportunities to translate Yiddish texts," he said. (They are all working under careful supervision of more experienced Yiddishists.)
Tevye, the central character in Sholem Aleichem's 'Tevye' stories, "sometimes quotes the Biblical saying, 'Ain chadash tachus hashemesh' — there is nothing new under the sun," Lansky observed. "I think the Bible's got it wrong. The truth is there are all sorts of things that are new under the sun." ♦