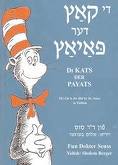 In a bid to promote notable Jewish books written in the past 150 years, the National Yiddish Book Center of Amherst, Ma., has announced a list of "The 100 Greatest Works of Modern Jewish Literature."
The list includes works in all languages and will serve as a "redefinition of the Jewish canon," said Center president Aaron Lansky, who described the results as "a fascinating, challenging, sometimes surprising list with books ranging from Mendele to Maus."
"Our goal is to carry the Jewish story forward — from the Torah, Talmud and other traditional texts to the Jewish literature of our own time," he said.
A distinguished international panel took two years to develop the list from an initial compilation of nearly 600 titles, plus additional recommendations. The list includes novels, plays, poetry and memoirs in English, Yiddish, Hebrew, Russian, French, Spanish, Italian, German and other languages.
Famous and widely-read titles take their place beside lesser known but equally important works. The books are listed alphabetically and are not ranked.
Reports indicate that only two books — Yiddish writer Sholom Aleichem's short story collection Tevye the Dairyman and Henry Roth's Call It Sleep — were included by universal acclaim. Much deliberation surrounded most of the other choices, even apparent "shoe-in" works by Isaac Babel, Franz Kafka, Cynthia Ozick and Philip Roth.
As it happens, only two Philip Roth novels made it onto the list: The Counterlife and The Patrimony. Similarly, only two works by Isaac Bashevis Singer were included: Satan in Goray and the Selected Stories.
Canadians? Mordecai Richler, Leonard Cohen and Adele Wiseman are all absent. The only Canadian represented is A.M. Klein for The Second Scroll.
The final list reflects "a mighty literature," said Harvard professor Ruth Wisse, author of The Modern Jewish Canon, who was one of the literary judges. The Center's web site is http://yiddishbookcenter.org/
* * *
Ever heard of a magazine called the Pakn Treger? Recently I spotted the colorful 102-page summer issue selling for $6 on the newsstand and couldn't resist taking it home. Named after the characters who traveled from shtetl to shtetl in Eastern Europe bringing books and news of the outside world, the Pakn Treger continues that tradition as the magazine of the National Yiddish Book Center.
If you have an affinity for both literature and Yiddishkeit, then this magazine is for you. The current lead story is "What Is Your Favorite Jewish Book? (And What Is A Jewish Book, Anyway?)" The editors asked this question of 10 noted writers and scholars including Aharon Appelfeld, Ruth R. Wisse, the center's own Aaron Lansky and Robert Pinsky, poet laureate of the United States.
The answers ranged from the expected — Call It Sleep, by Henry Roth — to the surprising: Irving Shulman's 1950s novel of teenage crime, The Amboy Dukes. Other favorites included Mendele Moykher Sforim's The Mare ("Di Kliatshe"), Franz Kafka's Metamorphosis, James Joyce's Ulysses and George Eliot's Daniel Deronda.
Noting that Joyce and Eliot were Gentiles, the editors write: "So what makes a book Jewish? Of course, there is no single answer. How could there be? What makes this forum exciting is that there are so many possibilities — so many ways to understand Jewishness and literature, and so many paths upon which 'Jewish literature' can continue into the future."
The same issue of the Pakn Treger features a portrait of Yiddish author Chava Rosenfarb and her story The Tree of Life, in both English and Yiddish. Another story remembers the late Allen Ginsberg. The mag also features sections on learning Yiddish: it does not presume the reader is fluent. ♦
© Bill Gladstone