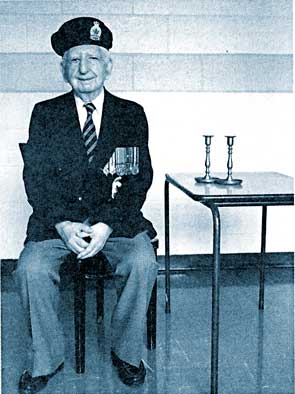 Irving Naftolin teaches dancing.
Naftolin, who will be 90 years old in October, is spry, articulate and has a clear memory of events past and present. He is enthusiastic about sharing his thoughts on staying youthful, his love of dancing and the tremendous benefits he gets from dancing and teaching others to dance.
He believes ballroom dancing builds confidence.
"Dancing is a means of expressing one's emotions through movement," he says in a 1990 book he wrote on ballroom dancing titled Step by Step by Step.
"Dancing is the oldest of the arts that needs no instrument, for the dancer's body is the instrument."
Naftolin's book was written for beginners and seniors. It contains a history of the dances, as well as instructions and diagrams for waltz, fox trot, rumba, cha cha, samba and other dances.
In an interview with Naftolin in his compact apartment in a veteran's residence, where the walls are covered with photographs and magazine cut-outs of ballroom dancers and people in his life, he said he began dancing at age 21.
"I was shy, didn't have any girlfriends and joined the Brunswick YMHA at College Street in 1935 to exercise, socialize and to dance."
He said he became interested in ballroom dancing and went on to take private lessons "and I went dancing at least twice a week."
Naftolin attended Central Technical School for two years and worked as a tinsmith until he went to work for his brother Ben Naft in 1938 in the printing business. Naftolin retired in 1975.
He served in the Canadian Army from 1942 to 1946, and when he was discharged, he married Clara Levi. She died in 1977.
In 1980, Naftolin was selected to dance in a chorus line that performed at Harbourfront. He later began teaching ballroom dancing at Earl Bales Park and veterans' clubs, as well as the Bernard Betel Centre for Creative Living and other venues. But Naftolin does more than dance. He believes keeping busy and active is the secret to remaining youthful.
Indeed, his posture and movements belie his age. He goes to the JCC twice a week and exercises at home every day. "I enjoy dancing at Mel Lastman Square every Sunday evening in July and August."
He said "memory is very important" to the effort of staying youthful. To keep his mind active, he has several archival scrapbooks into which he pastes stories and photos of interest from newspapers. He also writes in his diary every day and belongs to several clubs.
Naftolin has two sons, Edward and Richard, and three grandchildren. ♦
© 2003 by Cynthia Gasner. Originally appeared in the Canadian Jewish News.