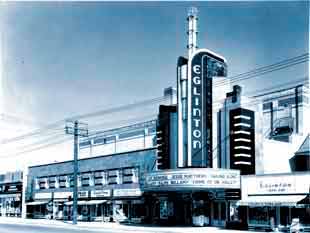 Photographs, blueprints and press clippings documenting the career of the late Toronto architect Harold Kaplan and his firm Kaplan and Sprachman are now in the Ontario Jewish Archives.
Records of Kaplan and Sprachman's work are also at the City of Toronto Archives, the Archives of Ontario and the National Archives of Canada.
Kaplan's two daughters, Phyllis Pepper of Toronto, a physio-occupational therapist, and Ruthetta Reiss of New York, an architect, donated the materials to OJA. They said they wanted their father's contribution to Canadian architecture available to Toronto's Jewish community.
"As we started going through my father's papers, we found out that the Jewish archives did not have any of his memorabilia," Pepper said. "So we decided that this was where we wanted his material to remain permanently."
Kaplan was a partner with Abraham Sprachman at Kaplan and Sprachman from the early 1920s to 1965.
The architectural firm designed the historic Anshei Minsk Synagogue, the Shaarei Shomayim synagogue at 840 St. Clair Avenue W., Beth Israel Synagogue in Edmonton, Beth Israel in Vancouver, Baycrest Centre for Geriatric Care, the new Mount Sinai Hospital, Oakdale Golf and Country Club and numerous other synagogues and institutions throughout the country.
The firm also designed new and modernized old movie houses, including the award-winning Eglinton theatre and the Towne Cinema on Bloor Street.
Harold was born in Bucharest, Romania, and moved with his widowed mother, Tillie Hohan, to England when he was three years old. Four years later, they moved to Toronto, where his mother married Frank Kaplan.
When he was a teenager, Harold went to Philadelphia to live with his uncle, where he learned draftsmanship. When he returned to Toronto, he attended night school and graduated in architecture. He married Dorothy Spain in 1923.
The Kaplans, who belonged to Holy Blossom Temple, were "a very traditional family," Pepper said.
Pepper remembers her father as "a very refined man." She said he would go to work early in the morning and arrive home promptly at 6 p.m. for dinner with the family. He would wear his silk smoking jacket during dinner, and he would return to his Dundas Street office every evening.
Harold continued to work as an architectural consultant after Kaplan and Sprachman was dissolved in 1965. He died in 1973, at the age of 77. The Kaplans had four grandchildren, Andrew and Douglas Pepper, and Jonathan and Rosemary Reiss, and seven great-grandchildren. ♦
This article originally appeared in the Canadian Jewish News and appears here courtesy of the author. © 2003 by Cynthia Gasner. Above photos courtesy Phyllis Pepper. 
* * *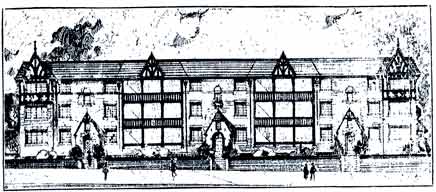 Architect's drawing by Kaplan and Sprachman of proposed $150,000 apartment house to be erected on Broadway avenue, north side, just east of Yonge Street. The three storey building will contain 18 suites and is to be "modern in every way. . . . The building is of the English domestic type of architecture and is a new departure for apartment houses in the city." September 1926.
* * *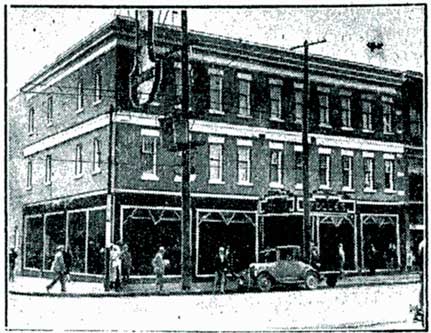 NEW STORE IS ERECTED AT QUEEN-PETER STS. (1930) Above is the new $100,000 store block now nearing completion at the southwest corner of Queen and Peter Sts. for the Yolles Furniture Co. Ltd. Designed by Messrs. Kaplan and Sprachman, architects, the building contains three storeys and basement and is of brick construction, with a Queen St. frontage of 65 feet and a depth along Peter St. of 140 feet.
* * *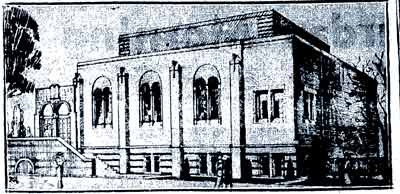 NEW $60,000 JEWISH SYNAGOGUE: Work has been started on a new synagogue designed by Kaplan and Sprachman, architects, to be built on the north side of St. Clair Ave. W., immediately west of Atlas Ave. The new building will take care of the Hillcrest congregation, which is now located on Christie Street. Toronto Star, July 1936.
* * *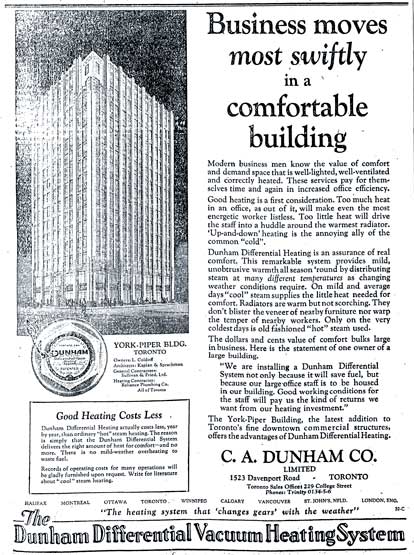 * * * 
BELOW: Ad for the opening of the Glendale Theatre, 1947