A look back at the CJN from 40 years ago:
From the Canadian Jewish News, March 6, 1974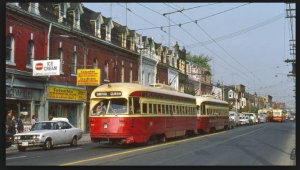 Spry Ben Sherman has no thought of retiring, and plans to work a full day in the hardware store he founded 55 years ago, the Canadian Jewish News reported in March 1974.
Sherman's family wasn't even planning to hold a birthday party for him. Son Sam Sherman recalled that they had a big party for him at the synagogue when he turned 100. Sam also works at Sherman's Hardware on Queen Street West. "Dad will come to the store on Monday just like he does every day, and he'll put in a full day working. He's in great shape."
On a normal work day Sherman carries out the sidewalk display, climbs up and down stairs for stock, serves customers in three languages, and punches out the orders at the cash register. Sam admits his father is slowing down a bit but says "he's still very, very sharp . . . there aren't many people who can put anything over on my father."
Sherman Sr. has never been in hospital. He has never smoked. He enjoys a shot of schnapps before lunch and dinner. Born in Kiev in 1871, he cam to Toronto in 1905. He was a tinsmith, working in a shop on Elizabeth Street which was the heart of the Jewish area in the early years of the last century.
Sherman (in 1974) was one of two surviving members of the Shaarei Tzedek Synagogue, the former Russian synagogue on Centre Avenue. The other was Nachum or Nathan Gold, then a mere 92 years of age. The synagogue later moved to Ulster and Markham streets.
"Dad still pays dues at the Russian synagogue though he attends Beth Sholom which is near where he lives," Sam said.
Ben Sherman and his wife had five children — two daughter and three sons — and ten grandchildren and seven great-grandchildren (as of 1974). One son, Max, was a former mayor of Brantford. In his younger years Sam was a middleweight boxer who fought under the borrowed name of Harry Greb.
"Work is my medicine," says Sherman, in accounting for his relative good health and longevity. ♦
From the Canadian Jewish News, March 11, 1982:
Ben Sherman was still active at age 111, and celebrated his 111th birthday with family and close friends at Baycrest Hospital. The CJN called him "Canada's oldest known surviving Jews," and revealed additional these biographical details:
After coming to Toronto in 1905, Sherman worked as a tinsmith by day and as a clarinetist and drummer in local theatres at night. While working as a tinsmith he became a supplier to Eaton's and a personal friend of Timothy Eaton, the founder of that once-estimable chain of stores. Eaton used to tell Sherman that everything was fine in his life except that he felt he was "getting a little bit old."
Sherman's daughter, Mynne Friendly, said her father's secret for longevity was that he liked to take a shot of whiskey before every meal. "He says to only take a bit," she confided.
The Canadian Jewish News reported in its issue of September 16, 1982 that Ben Sherman had died. He was predeceased by his wife and his son Sam; he left his son Max and wife Annette, a son Paul in Los Angeles, daughters Mynne Friendly and Ida Clarfield of Toronto, and 14 grandchildren and 15 great-grandchildren. ♦