From Beth Sholom Bulletin, Fall 2012
In 1933, Toronto residents Philip and Sally Latchman were surprised by the birth of triplets — three identical boys, Donald, Marvin and Victor — a blessed event that prompted Buckingham Palace to send them a ceremonial payment of several British pounds sterling. "When we were born the King of England [George VI] gave my parents what they called the King's Ransom, a certain number of British pounds," Don Latchman explains. No one in the family understood why the cheque had been sent and supposed it was an obscure British custom dating from medieval times.
"Every year we were interviewed by the three Toronto newspapers on our birthdays, and they ran stories and pictures of us," Don continues. "This went on year after year until my brothers and I said, 'Enough is enough, we don't need the publicity any more.'"
When the boys were about 11, the family moved from the Bloor-Markham area up to Montclair Avenue in Forest Hill and began attending Forest Hill Public School. Because people often confused them, school officials put them in different classes. In 1946 the trio had a triple bar-mitzvah at the Hebrew Men of England Synagogue.
Soon afterwards Rabbi David Monson invited the Latchmans to became founding members of Beth Sholom, a new congregation he was building on Eglinton Avenue West. The three sons and their families have proudly maintained their connection with Beth Sholom ever since.
The Latchman boys, who are now 78, believe themselves to be the oldest set of identical male triplets in Canada. One afternoon recently, we met with them and their wives — Donald and Annette, Marvin and Shirley, Victor and Rosalie — in Don and Annette's north Toronto condo.
Annette, a Holocaust survivor who grew up in New York, came to Toronto in the 1950s to visit her aunt and uncle, met Donald one evening at Lichee Gardens — "and the rest is history," Don says.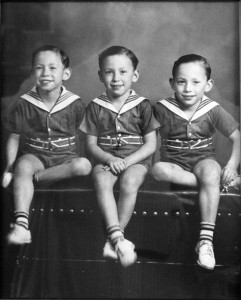 The brothers report that people still get them mixed up all the time. Sometimes they are obliged to show their drivers' licences to disbelieving acquaintances on the street. "Two thirds of the people who say hello to me, I don't know," Donald says. "I talk to them until I figure out where they met my brother. It's a big joke with us and we really enjoy it."
Their close friends rarely confuse one for the other, however, and only one of the wives admits to making that mistake. On her first date with Marvin — he took her to a dance — Shirley went around the floor with a man she thought was Marvin when she noticed he was wearing a different tie than the one Marvin had on. "That was the only time I got mixed up," she says.
Their father, Toronto-born Philip Latchman, was in the wholesale fruit and vegetable business with a location in the Ontario Food Terminal. His company, Federal Farms, cultivated 300 acres of farmland near Bradford, Ontario, and manufactured the tasty Mad Hatter brand of potato chips, which were kosher for Passover. "He was the only one to make kosher potato chips at that time, there was no one else doing it," Marvin says.
Marvin attended Ryerson business school, then worked for his father's company at the Ontario Food Terminal. After leaving Federal Farms, he sold investment properties, specializing in apartment buildings.
Victor also worked for Federal Farms. In 1966 he purchased Taylor's Shoes, an existing business in the Dundas-Keele neighbourhood of the Junction. Over the next 43 years he made it a success and became famous for carrying extra-small and extra-large sizes. He was also instrumental in establishing the Junction Business Improvement Area. He retired in 2009.
Don earned a business degree from Ryerson and went into the insurance business in 1957. He was on the board of the Ontario Insurers Brokers Association and wrote articles for the industry magazine. Over the years he regularly sold policies to Beth Sholom covering property insurance and employee benefits and other areas. "I introduced different coverages to the synagogue and arranged to insure the stained glass windows and other items," he says.
Both Don and Marvin were on the synagogue board for many years. Don was also president of the Brotherhood and president of the Young Married Couples Club established by Rabbi Monson. Rosalie was also on the executive of the Young Marrieds and recalls that the group "consisted of couples who had been married in Beth Sholom, many of whom got their first year of membership in the shul for free." Shirley was active in the Sisterhood and its "very busy Judaica shop which I helped with for many years."
Don and Annette's children and grandchildren donated a stained glass window in their honour for their 50th wedding anniversary. The window is in the lobby. Upstairs, the family donated a portion of another stained-glass window in honour of their parents, whose names also appear in the lobby on the board showing the names of the original members.
Over the years the growing Latchman clan has maintained the bond with Beth Sholom. To date, Don and Annette have two children and three grandchildren; Marvin and Shirley have three children, ten grandchildren and two great-grandchildren; and Victor and Rosalie have two children and three grandchildren.
Their happiest memories of Beth Sholom include the marriages of children and grandchildren there as well as the bar- and bat-mitvot of several grandchildren. They also greatly enjoyed the communal Passover seders that Beth Sholom used to hold. "Those seders were fantastic," Don enthuses. "I wish they would do them again." ♦