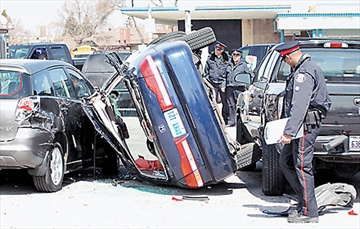 A 79-year old woman was shaken up but not seriously hurt after flipping her Honda Accord into a parking spot at Bathurst Manor Plaza in north Toronto one morning in April 2009. The accident was caused by the "misapplication of pedals," police said.
An eyewitness, Peter Kim, said he saw "this blue car coming at top speed at the truck at a bit of an angle. It hit the truck and hit the car beside the truck and sandwiched itself on its side."
Trapped inside her vehicle, the woman tried to call her husband on her cellphone but police told her not to move because of the danger that leaking gasoline might ignite. Firefighters broke open the back window and pulled her out.
"She was on the stretcher and was smiling on her way to the ambulance, so she seemed like she was okay," Kim said. Paramedics examined her and then drove her home. ♦
Courtesy Etobicoke Guardian